We are running an exciting Speed Collaboration session on Thursday 22 March, starting at 11.30 and including a networking lunch. It is part of a stimulating Interdisciplinary Research Week program starting next week.
Comments about Speed collaboration/networking events from all over the world:
"It was kind of fun, it was kind of light, it wasn't highly pressured… It was just 'Lets see if we can make a connection and then take it further if we need to'."
"What appealed to me about speed networking was the opportunity to meet a lot of people within a short space of time."
On 31 January 2018, I attended a Speed networking event run by Innovate UK in London to see what the fuss is all about. They have gone for the structure where there are 5 Challenge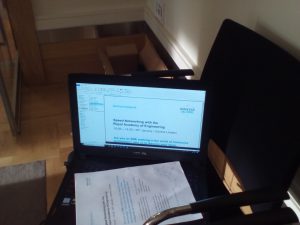 Proposers – Siemens, Deloitte, European Space Agency, Jaguar Land Rover and Reed Smith. The Proposers list their challenges and organisations (about 30 reps attended) apply to pitch their ideas to each Proposer. The Proposers are set up in 5 tables and each organisation is given 5 minutes to present. The Hostess rings a bell and they have to move on to  the next Proposer.
There was fantastic energy and buzz floating around; and I can feel that definite connections were made. Attend our RKEO Speed Collaboration event and you will find out for yourself how we will be running it and what you can take away from it.
You have to be in it, to win it! A last comment to leave you with:
"It's a research project that may never have come together, or at least come together as quickly, if it hadn't been for the speed-networking event. The bottom line is, if you don't meet people, you will never find someone who can find you new information and a new vision. Breakthroughs can only happen if you acknowledge you don't know everything."
All you have to do to book your place is to click here and see what happens next!