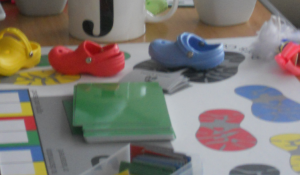 Today BMC Pregnancy & Childbirth published the latest paper by a PhD student at Bournemouth University.  Our congratulations go to Alice Ladur in the Centre for Midwifery, Maternal & Perinatal Health (CMMPH), who published `Whose Shoes?' Testing an educational board game with men of African descent living in the United Kingdom [1].  This paper is based on her PhD research and co-authored with her supervisors.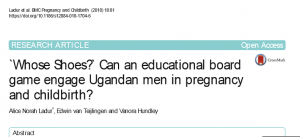 The paper addresses issues around men's involvement in programmes or interventions aimed at the improvement of maternal health. One such innovative intervention is an educational board game which offers a unique approach to present health information where learning is reinforced through group discussions supporting peer-to-peer interactions.  The authors would like to thank Gill Phillips for permission to use the Whose Shoes? board game and all participants for their participation in the PhD study.
Alice PhD is focused on Uganda and this particular paper reports a qualitative study with men from Uganda who live in the UK on their views of an educational board game. This pilot study explored perceptions on whether a board game was relevant as a health promotional tool in maternal health prior to implementation in Uganda.

Reference:
Ladur, A.N., van Teijlingen, E., Hundley, V. (2018) `Whose Shoes?' Testing an educational board game with men of African descent living in the United Kingdom, BMC Pregnancy & Childbirth 18:81. http://rdcu.be/JXs0