Do you want to know more about our fourth call for project proposals?
Are you looking for project partners or do you have a project idea to share?
Would you like to network and build new contacts?

Then join the Interreg Europe team on Friday 13 April 2018 at 10am (Paris time) a two-hour online event dedicated to networking, partner search, and information about their new project call.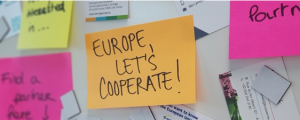 During #europecooperates online, you will:
Hear the latest news about the fourth call and ask any questions you might have;
Get tips for project development and learn about the already ongoing projects;
Have a chance to network, find partners and share inspiration in an online chat.
The event is fully online, so you can participate from wherever you are. The event will be streamed live on the #europecooperates website as well as on Facebook.
Furthermore, you can start sharing your ideas and send them your questions already before the event. To help you connect with the other participants, they will open the online chat rooms on Wednesday 11 April, two days ahead of the live stream.
See the programme for more information, register now and get ready to network!
The Interreg Europe team is looking forward to seeing you online!
If you wish to apply for this call or other European funding calls, please contact your Faculty's Research Facilitator – FMC & FM: Alex Pekalski or for FHSS and FST: Rachel Clarke