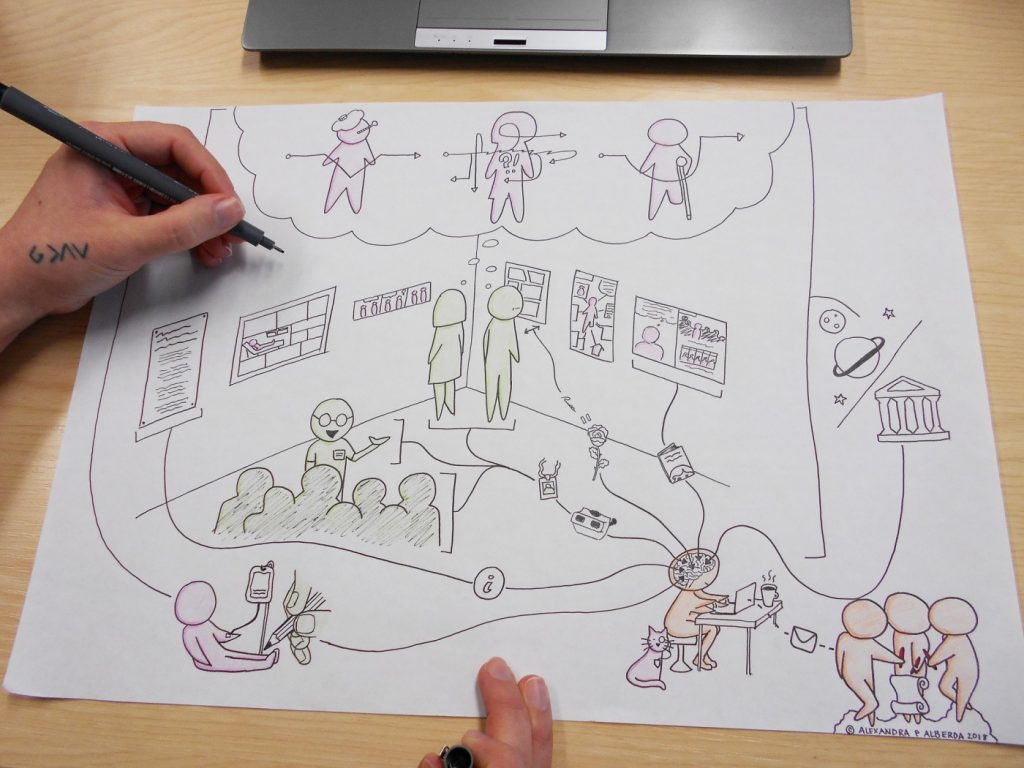 All My Meeples
Our next Photo of the Week is Alexandra Alberda's photo of her drawing of  people engaging with Graphic Medicine comics at a museum exhibition. This weekly series features photo entries taken by our academics, students and professional staff for our annual Research Photography Competition, which gives a glimpse into some of the fantastic research undertaken across the BU community.
Alexandra's work takes Medical Humanities and Graphic Medicine into non-clinical and public settings where health related works are being engaged with presently. Her research furthers Medical Humanities' engagement with public perceptions of health by expanding the critical vocabulary available to scholars through Comics Studies and curatorial practice. The space of the museum holds a social identity as upholding and defining culture and has a history of exhibiting works that relate to healthcare and the "ill" other/body. How do these bodies and the experiences they illustrate reach our own interpretations of illness, flesh bodies, and lived experiences? Alexandra's PhD research focuses on these experiences as they are tied to exhibitions and museums, which creates three groups of 'people' to the research.
The first group (green) are the people that exist in the museum: viewers, artists, curators, and other museum staff. The second group (pink) are the people represented in the exhibition artwork: both fictional and non-fiction characters in the case of memoirs. Her research focuses on the relationships and engagement that happens between the first and second groups. The third group (orange) involves the relationships between my supervisors, and their expertise, and Alexandra. These relationships will translate into her professional practices and research skills.
—
Alexandra Alberda is a PhD researcher in the Faculty of Media and Communication at Bournemouth University. Her supervisors are Dr. Sam Goodman, Dr. Julia Round and Professor Michael Wilmore. She received her MA in Art History minoring in Sculptural Painting/Studio Art at the University of Nebraska-Lincoln and BA in English and Art minoring in Honours, Art History and Writing at Briar Cliff University.
Find out more about the role that comics can play in the study and delivery of healthcare on the Graphic Medicine website here.
– @ZandraAlberda