As a discipline and a profession, social work builds on a wide variety of methods and techniques for its practice. The broader frameworks of social work methodology guide social workers through the process of developing and creating interventions with different service users, carers and other professionals.
This book aims to provide an overview of current debates concerning social work methods and methodologies from an international perspective. It provides and enables exchanges about the variety of approaches and reflects the knowledge base for bringing social work theory into practice in different European settings and welfare contexts. It is a timely and welcome addition to the literature at a  time when European cooperation and solidarity is much needed.
Edited by Professor Spatscheck from Germany, and Professors Ashencaen Crabtree and Parker from the UK, this book comprises chapters selected from presentations held at the 17th SocNet98 International University Week at Hochschule Bremen and includes further contributions from throughout the SocNet98 network. The work includes a chapter by the editors co-authored with past BU Sociology & Social Policy students Emilie Reeks,  Dan Marsh and Ceyda Vasif.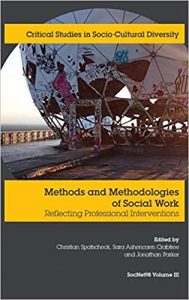 "SocNet98 – European Network of Universities/Schools of Social Work" provides highly successful International University Weeks for social work students and academics from across Europe to learn from and share with one another. These study weeks have enriched social work education for 20 years and continue to do so.