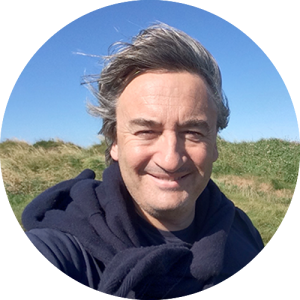 Last week I spent a day up in London at the BBC's News Centre working with former colleague and BU's honorary Doctor of Letters Fergal Keane OBE on his keynote for the Media Education Summit.
The conference – co-hosted by BU's research centre CEMP  and Hong Kong Baptist University – takes place in Hong Kong on November 1st-2nd, 2018. We invited Fergal – now the BBC's Africa Editor – to speak, not only because of his by-line (he reported on the handover of Hong Kong to China in 1997), but also because he thinks deeply about journalism, the challenges it faces and its vital role in a free society. He is known  for his empathic approach to re-telling others' stories – and respected for it, as a recent survey of practicing journalists by the National Council for the Training of Journalists (NCTJ) highlights.
As well as covering the major conflicts  and events of the last 30 years, including the end of apartheid in South Africa and most notably the genocide in Rwanda,  for which he was awarded Amnesty's television award – Fergal has written several books. These range from reportage to memoir to meticulously researched histories: 'Season of Blood'(1995) – his account of his experiences of reporting in Rwanda won the Orwell Prize in 1995. In his most recent work, Wounds, A Memoir of Love and War (2017), he returns to Ireland to recount his family's involvement in the civil war and war of independence following the uprisings of 1916. All of his writing focuses on human stories, often examining why people kill for a cause and seeking to understand the nature of conflict.
21 years on from reporting the Hong Kong handover, in his MES keynote, Fergal will reflect on the state of journalism, from the perspective of a foreign correspondent and through the lens of reporting conflict   He reminds us that journalists are first and foremost storytellers, who are trying to show audiences 'what it is like to stand where I do and see the things I see'. His keynote surveys the current media landscape to consider the importance of accountability and responsibility, of freedom and diversity, the need to avoid 'othering' and falling prey to stereotypes and the dangers of false narratives, or 'fake news'. As well as seeking truth and holding power to account, journalists need to challenge themselves, to have a sense of self. Speaking 'From where I stand', Keane asserts that, above all else, journalists must show empathy and humanity – as they tell the stories of others. We are looking forward to hearing more in Hong Kong!
Dr Karen Fowler-Watt, Senior Principal Academic, School of Journalism, English and Communication
Keane, Fergal (1996).Season of Blood: Rwandan Journey. London: Penguin
Keane, Fergal (1996).Letter to Daniel: Despatches from the Heart. London: Penguin
Keane, Fergal (1999).Letters Home. London: Penguin.
Keane, Fergal (1999).Dispatches From The Heart. London: Penguin
Keane, Fergal (2001).A Stranger's Eye (BBC Radio Collection). BBC Audiobooks. 
Keane, Fergal (2006).All of These People – a memoir. HarperPerennial. .
Keane, Fergal (2010).Road of Bones: The Siege of Kohima 1944. HarperPress. 
Keane, Fergal (2017). Wounds: A Memoir of Love and War. HarperPress