Sustainability goals implementation in the Era of Digitilisation in North African Countries

3-4 December 2018, Golden Tulip El Mechtel, Tunis

Dr. Kaouther Kooli, Conference Co-Chair

In collaboration with the Interdisciplinary laboratory of University-Enterprise Management (LIGUE-ISCAE), the centre of Research on Retail and Digital -FSA- University of Laval-Canada; the Academy of Marketing B2B SIG au Royaume-Uni, The Association pour la Promotion de l'Innovation et de la Qualité (APIQ) and The University of Manouba, Bournemouth University has organised a fantastic conference on the 3rd and 4th December 2018 at the Golden Tulip El Mechtel in Tunis.

Professor Derrick De Kerkhove brilliantly highlighted the connectedness of nowadays world in the plenary session, and, set the tone for this conference that addresses sustainability, one of the shared global issues strongly supported locally, regionally and internationally. Indeed, North African countries are signatories of the General Agreements on Customs Tariffs and Trade (GATT-WTO), among so many other countries. To comply with the 2030 sustainability agenda and with the expectations of their international partners, these countries have to adopt and integrate the sustainability objectives. However, considering the low level of integration of sustainability and social responsibility in the strategic objectives of the different stakeholders, the arguable diffusion of Information and Communication Technologies, the degree of adequacy of the legal and legal framework (standards, certifications, etc.),  and the recent sociopolitical changes in these countries, it is essential to debate the challenges / obstacles / levers for integrating the 2030 sustainability perspective and to discuss possible routes for the different stakeholders involved in a conference.

Top level keynote speakers have enriched this debate :

Professor Derrick De Kerckhove, Professor of anthropology of communication in Politecnico of Milan (Italy) and council member for smart cities planning in various countries: Italy, Canada, Singapore, Algeria, Austria and Tunisia (Bizerte);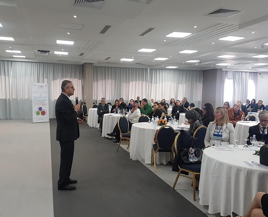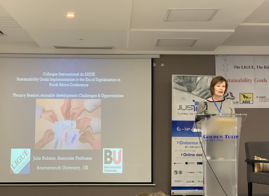 Dr. Julie Robson, Associate Professor of Marketing at Bournemouth University (UK).She is a specialist in Financial Services Marketing, Banking Marketing, Insurance and Islamic Finance and is a member of the Editorial Board of The International Journal of Bank Marketing.
Professor Samir Trabelsi, Professor of Accounting at Brock University (Canada).  His research interests include governance, transparency, financial risk management and social responsibility.
In addition to the British Academy's indexed conference proceedings, five ABS journals sponsored the conference with special issues: Journal of Customer Behavior; Qualitative Market Research- An International Journal; Cogent Business and Management; Social Business and Transnational Marketing Journal.
More than 140 participants took part in this event. As well as academics from different management science disciplines from the UK, Canada, Egypt, Spain, France, Italy, Libya, Morocco and Tunisia, practitioners operating in various economic sectors (private or public) i.e. educational, social, technological, governmental, Not for Profit, etc. joined the conference to discuss the results of scientific research, professional experiences, challenges, concerns and levers for implementing the sustainability goals. The results consisted in a very fruitful exchanges that were widely appreciated by all attendees and commented on extensively by the media covering the event (TV216, El Janoubia TV, press unit of Universincity of Manouba) and on social media (mainly Facebook).
During two intensive days, roundtable discussions on experiences, challenges, prospects for the implementation of the sustainability goals, local government governance, smart cities, the link between trust and sustainable development, the role of the media in achievement of the sustainability goals, water issues as a public issue, networking workshops, meetings with the editors  of the Journal of Customer Behavior, Qualitative Market Research- An International journal, Cogent Business and Management, Social Business and Transnational Marketing Journal; and research paper sessions, provided an opportunity to develop collaborative networks on common issues leading to future collaborative projects. In this regard, several projects were discussed and meetings were held and / or are planned to concretise these collaborations.
The conference was sponsored by prestigious organisations that were also represented in the conference through contributions to very rich roundtables. These are : PMS Service Company, Societe National de Petrole SNDP Company (AGIL), Tunisair; Biolive, Justech. Ms. Zeineb Attia (HR Expo); Dr. Khaoula Ben Mansour (INLUCC); Ms. Zohra Boussetta (Biolive); Prof. Aysha Karrafi (ATGL, APER); Mr. Nizar Nouiri (Factory 619); Ms. Sana Oueslati (e-Government Unit, Prime Ministry); Ms. Souad Siala (Canadian-Tunisian Chamber of Commerce); Mr. Charfeddine Yakoubi (ATCP); Dr. Slim Mehrezi (Mayor of the la Marsa Council); Mr. Sami Marrouki (President of IRSET) and Mr. Nabil Smida (CEO of SNDP).
Conference main outcomes
Publications for academics from all participant countries i.e. North Africa and beyond in ABS journals bringing new research approaches/methods that are more specific to an under researches part of the world.
Joint projects linking academics from different countries i.e. Dr Cherifa Lakhoua presented a paper on the impact of the socio-political situation, images and intention to visit: how to develop a sustainable image of a country and a destination? Taking the case of Tunisia. She is now collaborating with Dr Hazeem Rasheed from the College of Management and Technology in Egypt, to collect further data from Egypt.
The conference is one of the very few opportunities for North African countries to meet and debate over shared issues.
Joint bids for funding are planned i.e. an application for the following funding (Society for Libyan Studies, GB) is being developed in collaboration between Dr Julie Robson, Professor Adele Ladkin Dr Kaouther Kooli (BU), professor Len Tiu Wright ( De Montfort University) and Professor Hamida Skandrani (The University of Manouba, ISCAE), Dr. Fatma Smaoui (The University of Tunis, ISG)
Collaboration of Dr Kaouther Kooli (BU) with Professor Derrick De Kerkhove (Italy) on the project "I am Bizerte" which is part of a bigger project "Smart Bizerte".
Collaboration between Bournemouth University and the College of Management and Technology in Alexandria on a future conference. In addition, to initiating a partnership led by Professor Sangeeta Khorana and Dr Kaouther Kooli between both institutions.
Dr. Kaouther Kooli is nominated a mentor for researchers/academics working at the College of Management and Technology, Alexandria, Egypt.
Initiating a partnership between the American University in North Africa AUNA in Tunis and Bournemouth University.
All these outcomes will contribute to BU 2025 Strategic plan:
Build capacity and capability to deliver the BU2025 outcomes through (1) leading thoughts and research looking at an under explored region in the world, (2) through publishing relevant research that touches pertinent issues, hence with strong potential impact on the society, (3) through enhancing BU position as a sustainable organisation that is ahead of the curve in reflecting upon the inclusive environmental impact.
The event contributes also to BU reputation and networks by developing BU network of partners. This is much needed especially if we consider that the UK is going through tremendous changes triggered by Brexit.
Finally, this event contributes to BU strong commitment to ensuring equality and diversity, through collaborating with colleagues in North Africa on key global issues.  During the conference, contributions from academics, practitioners and other stakeholders, have emphasised North Africa as an important player, alongside with other international stakeholders, in achieving the 2030 sustainability agenda. These contributions took different forms i.e. research papers, roundtable discussions.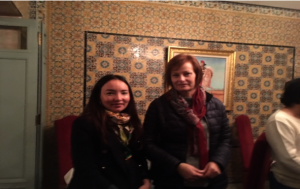 A big thank you for two wonderful ladies: Dr. Julie Robson and Dr. Elvira Bolat for their dedication and contribution before and during the conference.
Finally, I would like to thank Professor Michael Baker, Professor Ibrahim Sirkeci and Dr Andrew Lindridge for supporting the conference with special issues of ABS journals, hence, providing academics in North African countries and others with a huge opportunity for publication.
I wish you all a Very Merry Christmas and a Happy New Year.
Dr Kaouther Kooli, Conference Co-Chair