On Friday 30th November 2018, BBC South visited the Faculty of Science & Technology at Talbot Campus, to film the Assistive Technology research being conducted by Dr Paul Whittington, Dr Huseyin Dogan and Professor Keith Phalp.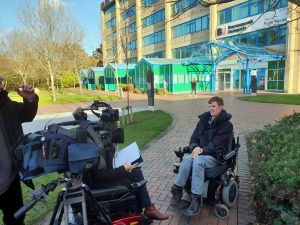 Assistive Technology has been identified as one of the key strategic investment areas in the BU2025 vision. The filming focused on the use of different technologies for people with reduced physical and cognitive abilities and the use of alternative methods of interaction to control Dr Paul Whittington's car.
Briony Leyland interviewed Dr Huseyin Dogan who discussing the importance of Assistive Technology research and raising awareness of potential benefits to improve the quality of life for people with reduced abilities. Dr Dogan also demonstrated the different technologies that have been purchased by the Faculty, including smartglasses, an iPad with a Switch Control feature to enable interaction through head movements and EEG headsets.
Following the filming of students working in one of the computing labs, BBC South then proceeded to film outside. Dr Whittington demonstrated SmartATRS (Automated Transport and Retrieval System) to control the motorised driving seat, the automated tailgate and platform lift in the vehicle, as well as the autonomous docking of the powerchair through LiDAR technology. Dr Whittington was then interviewed to discuss his personal experience and motivations behind the research he is conducting at BU, "To transmit my knowledge to help others improve their quality of life and see the benefits that technology can bring."
South Today Evening News reported on the advantages of using smartphone interface, compared to the original keyfobs that are challenging for people with reduced finger dexterity.
Dr Huseyin Dogan was also interviewed later in the afternoon, by Louisa Hannan, Drivetime Presenter on BBC Radio Solent. Assistive Technology research at BU was discussed further, explaining the future developments and examples of our research.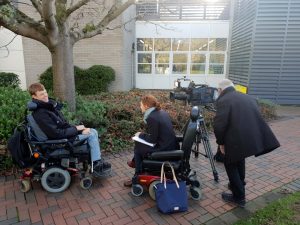 BBC filming the Faculty of Science & Technology was a great experience and we were very fortunate with the weather as there were clear blue skies and the cameraman commented that it was too sunny! It was an amazing opportunity to highlight and promote the Assistive Technology research being conducted at Bournemouth University.
This publicity coincides with the International Day of Disabled Persons (3rd December) and we are keen to empower persons with reduced abilities to ensure inclusiveness and equality.
If you would like for further information about our assistive technology research or a link to the South Today feature, please contact us:
Dr Paul Whittington (whittingtonp@bournemouth.ac.uk)
Dr Huseyin Dogan (hdogan@bournemouth.ac.uk)