UK could increase economic growth by 0.5 percentage points per year, with a potential gain of 10% of GDP by 2030 by equalising labour force participation rates of men and women (Gov.uk  2019).
In the last few decades, women of various ethnic origins including Indian high-class professionals in the fields of IT, medical, academia and entrepreneurship have come to the UK. However, women of various ethnic origins are underpreprsented in the labour force. Although they have significant productive capacity, it is mostly unused because of several socioeconomic reasons, including many of them choosing to stay at home because of them not being knowledge about the UK job market.
In view of BU's commitment to gender equality and diversity, through charity impact grant, this project led to a partnership between BU and ICAD (Indian Cultural Association of Dorset) that can advance the BU values of integrating ethnic minorities into mainstream British society and promoting social harmony.
The first setting up scene event took place at Bournemouth University on the International Women's Day. It was well attended by both women and men from different cultural backgrounds.
The speakers included Dr Shrivastava who spoke on the business case for gender equality, Mrs Sarah Ali Choudhary on the need for women to put themselves forward, Dr Elvira Bolat on the enabling power of social media and Mrs Adel Padiachy on the need for taking care of mental health. The interactive session included quizzes and Indian cultural music.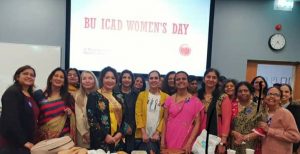 The event ended on a high note with everyone taking personal pledges to support the cause of gender equity on several fronts.
Planning for a follow-up workshop on skill development is underway for the summer this year. This workshop will aim to empower women from ethnic minority groups through workshops on skills required in various walks of life such as self-employment, labour market entry, social media marketing, higher education, health and wellbeing.