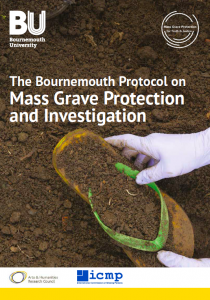 Mass graves contain evidence that is essential to the effective realisation of truth, justice and perpetrator accountability. Effective rules and procedures for the protection, maintenance and investigation of mass graves are therefore vital. The Bournemouth Protocol on Mass Grave Protection and Investigation is defining standards on this crucial issue.
In her foreword, Her Majesty Queen Noor, Commissioner of the International Commission on Missing Persons, reminds readers of this crucial "premise that standards of investigation and protection applied to mass graves must support efforts to establish the truth about what happened and facilitate the pursuit of justice." UN Special Rapporteur Agnes Callamard echoes this sentiment, admonishing past handling of mass graves that might be "inappropriate, discriminatory or, quite simply, indifferent. This has to stop. We can and must do far better and more, to respect and protect the diverse interests and concerns of families, survivors, communities and societies. It is our shared duty to our common humanity."
The Protocol is anchored in international law to help meet those interests and needs. Mass graves from their discovery through to commemoration efforts deserve protection and investigation. Such efforts involve extensive engagement: From the legal, investigative and scientific disciplines to community liaison and family support, each with their own rules and standards of professional practice, they all have to come together for respectful, indiscriminate and dignified handling of mass graves and human remains.
The Protocol is inspired by, and greatly indebted, to the many participants and reviewers who generously shared their knowledge, time and expertise. Special thanks are owed to the AHRC for funding the project, the International Commission on Missing Persons, project partner and supporter of the Protocol and the wonderful support shown by the Steering Group to the project (including BU's Prof Dinusha Mendis and Prof Roger Brownsword), student helpers Nan Sheppard, Samantha De Simone and Luke Nwibo Eda, the Faculty of Media & Communication's Marketing Team and the Design Unit for its patient formatting, editing and revising.
The Bournemouth Protocol on Mass Grave Protection and Investigation will enable greater cooperation among actors and organisations in a broad array of settings and ensure that mass graves and sites where horrific violence and human loss have occurred are effectively protected and investigated to standards that are lawful and respectful.
Dr Melanie Klinkner & Dr Ellie Smith