If you're interested in sharing your scientific research with a friendly public audience – complete our form.
---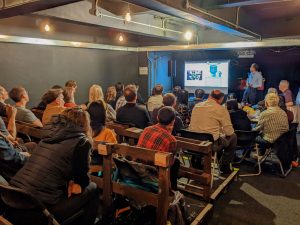 We're looking for a speaker for Café Scientifique on Tuesday 4 Oct 2022 (6-8pm).
Café Scientifique is a public event format, popular around the world, where anyone can come along to explore the latest research in science and technology in a casual café setting. Following a short presentation by a researcher, there is plenty of time for questions and discussion from a varied public audience.
They're organised centrally by the BU Public Engagement with Research Team, part of Research Development and Support (RDS). It's a fantastic opportunity to get experience in engaging with the public in a friendly atmosphere and gain surprising insights into your own work.
We welcome academics at all career stages, although this is particularly valuable for those just getting started in engaging with the public. We also encourage collaboration between less experienced and more experienced public speakers – to provide a valuable learning experience with the support to keep things going smoothly.
Regarding your research – although we use a broad definition of 'science', the audience do have certain expectations from the name, so we do not tend to feature research outside of the broad 'science' theme.
If you're available and interested, please complete our brief form which collects all the information we need at this point.
What happens next?
Whether we will be able to host your talk depends on several factors including the subject matter, so completing this form does not guarantee you will be able to take part. If everything does align, we will be in touch.