If you're interested in sharing your scientific research with a friendly public audience – complete our form.
---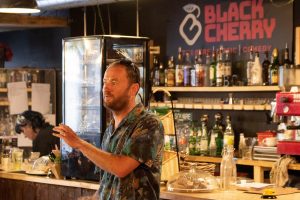 We're currently organising our series of Café Scientifique events for Oct 2022 – July 2023 and we're looking for people interested in getting involved. Café Scientifique is a public event format, popular around the world, where anyone can come along to explore the latest research in science and technology in a casual café setting. Following a short presentation by a researcher, there is plenty of time for questions and discussion from a varied public audience.
Taking place on a weekday evening, Café Scientifique events run monthly from June (excepting August and January). They're organised centrally by the BU Public Engagement with Research Team, part of Research Development and Support (RDS). It's a fantastic opportunity to get experience in engaging with the public in a friendly atmosphere and gain surprising insights into your own work.
We welcome academics at all career stages, although this is particularly valuable for those just getting started in engaging with the public. We also encourage collaboration between less experienced and more experienced public speakers – to provide a valuable learning experience with the support to keep things going smoothly.
Regarding your research – although we use a broad definition of 'science', the audience do have certain expectations from the name, so we do not tend to feature research outside of the broad 'science' theme.
What happens next?
Whether we will be able to host your talk, and at the time you want, depends on several factors including the subject matter, timing and other events, so completing this form does not guarantee you will be able to take part. If everything does align, we will be in touch to invite you to speak at an upcoming event.
Other ways to get involved
We're looking to involve a wider range of people from across BU to make our Café Scientifique series a success and a true BU community project. As well as speaking, you could get involved in a number of flexible ways;
Hosting events – every Cafe Sci event needs a host – to welcome the audience, introduce the speakers and keep the questions flowing. This is a great opportunity for someone to develop skills and experience interacting with the public, as well as being an enjoyable way to meet other people.
Helping to organise events – whether it's finding speakers, helping polish a presentation, promoting these events far and wide and more – we'd welcome any BU staff or students who'd like to help out with various bits behind the scenes on these events. This is a great way to dip your toes in the world of public engagement, gain experience in organising events and work on a fun project with others across BU.
If you have any questions about speaking at, or are interested in helping to host or organise these events, then please get in touch with the public engagement team at publicengagement@bournemouth.ac.uk. There's no commitment, we can start from there and see what would work best for everyone.