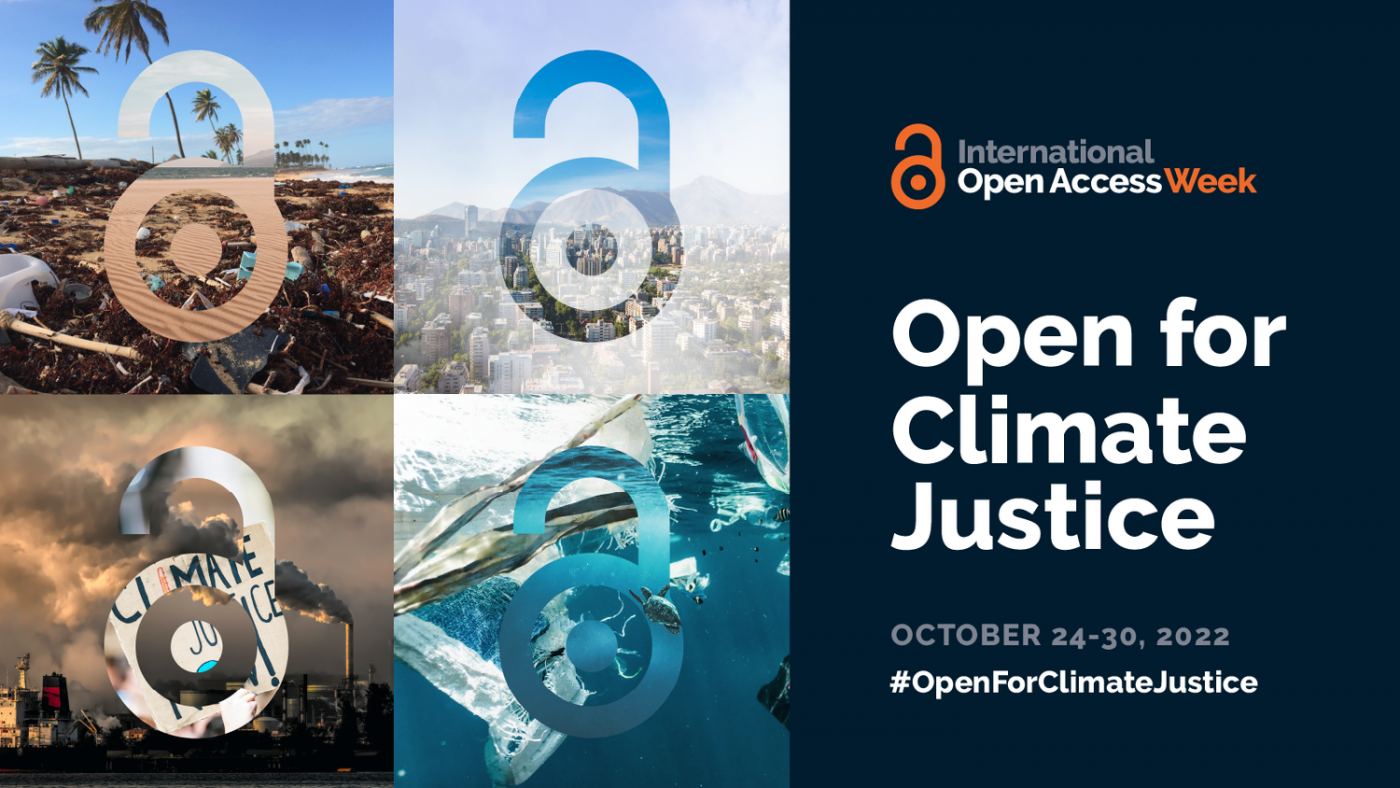 This year's International Open Access Week features the theme of "Open for Climate Justice".
In conjunction with the International Open Access Week which is taking place all of this week, we are happy to share with you a guest blog post from Dr Xin Zhao, a Senior Lecturer at the Department of Communication and Journalism with Faculty of Media and Communication. Dr Zhao's feature article takes us into an "Exploration of the concept of environmental justice".
I like things to be categorised. This is perhaps the biggest reason why when approaching an academic topic or area, I am so drawn to the definition of a concept, as well as its components. The same occurs to my study of environmental justice.
You have probably seen a generalised definition of environmental justice somewhere, like the one below:
…fair treatment for people of all races, incomes and occupations, regardless of gender, residence, educational level, age, political position or background, regarding the development, implementation and enforcement of environmental laws, regulations, policies, and meaningful involvement in the decision-making processes of the government, and the fair distribution of environmental burdens and benefits to all. (Quan, 2002, p. 464)
Then a simple question arises, how would we evaluate whether an activity is "just" or not, environmentally speaking. I appreciate that the world is too complicated to be answered in such manner. But at least we need to know what standards we would use in the evaluation.
So as a researcher, I dig. Although there is no comprehensive list of all standards, I pieced together available literature in areas such as environmental science and organisation communication and came up with my own list. The list includes components such as "rich people pay", "openness and participation", "adequacy", and "transparency". With operationalised definitions, it became straightforward when evaluating relevant statements prevalent in various discourses, such as news articles. For example, "Greenpeace praised the Orange Alert that had been declared for putting restrictions on construction and industry, but said that it was "clearly not enough"" from The Independent (Griffin, 2015) clearly addressed the adequacy issues in environmental justice which points to the all-around (not partial), timely (not outdated), and accurate (not wrong) way of addressing environmental issues.
Definitions make me feel secure because it functions as a foundation for any further research. I employed the above components in my study of the media representations of environmental justice in the case of China's air pollution by China's outward-focused news media (Zhao, 2021). My study showed the consistency of China's mediated international communication in covering the overall architecture of governmental policies in dealing with air pollution issues ("adequacy"). Interestingly, it also identified an extension of the scope of the content of communication. China's news media also exposed the general causes of air pollution ("polluter's responsibility") and the detailed demands from the public, especially those from the vulnerable groups ("special need") and those concerning the public's involvement in the decision-making and execution procedures ("openness and participation"). With the aid of the conceptual mapping about the notion of environmental justice, I am able to generate meaningful findings regarding real-world issues.
Of course, the list of components I came up with needs to be honed through tests and debates, like any other concepts, let alone we are talking about one of the trickiest concepts, i.e. justice. The list needs to be expanded and revised when bringing in the issues such as race, colour, and national origin when discussing environmental justice issues in the international and cross-cultural settings. Only with clear and straightforward concepts can reasonable responsibilities be assigned and executed, for example, who should shoulder the duties of managing the hazardous waste and which groups or communities should receive extra protection from the harms. This could be a fruitful area of study and I look forward to relevant collaborations.
Reference:
Griffin, A. (2015). Beijing Smog 'Red Alert' Issued, The Independent. 7 December. Available at: https://www.independent.co.uk/climate-change/news/beijing-smog-red-alertissued-schools-and-businesses-to-completely-shut-down-as-chinese-capital-issues-first-everextreme-warning-a6763286.html (Accessed: 19 September 2021).
Quan, R. (2002). Establishing China's Environmental Justice Study Models. Georgetown International Environmental Law Review, 14(3), 461-487.
Zhao, X. (2021). How 'public' is communicated in China's public diplomacy: communicating environmental justice in the case of air pollution in China. Networking Knowledge: Journal of the MeCCSA Postgraduate Network, 14(2), 65-94.
To find out more about Dr Zhao and her research area, please visit Dr Zhao's Staff Profile Page.
Some of Dr Zhao's articles which are available open access include the following: