Dr Deniz Cetinkaya, Principal Academic in Computing, writes about the SPEED project, an EU project to use advances in technology and data science to support new port ecosystems, which has just been completed… 
The SPEED project (Smart Ports Entrepreneurial Ecosystem Development) is funded by the EU European Interreg 2 Seas program, run for the European 2 Seas region (Belgium, France, Netherlands and the UK).
The project has been running for over four years now, since 2018, and we have completed it successfully and managed to deliver all expected outputs in our work package. BU has been one of the leading partners together with Antwerp Management School in Belgium.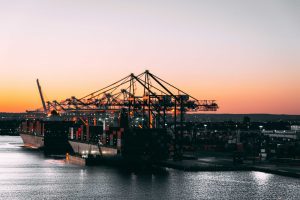 The SPEED project aimed to develop and support the growth of a connected port solutions ecosystem backed by data science and IoT technologies. It helped to empower a cross-border community of port authorities, port stakeholders, data science and IoT entrepreneurs and knowledge centres to become a leading smart ports innovation ecosystem and hub for smart port application development.
The project was shortlisted for the 2021 IAPH (The International Association of Ports and Harbours) Sustainability Awards by The World Ports Sustainability Program in the category 'Resilient Digital Infrastructure'. We have published and presented a conference paper in the 20th International Conference in E-Society in March 2022 and another paper in the 24th International Conference on Human-Computer Interaction in June 2022.
SPEED Smart Ports Innovation Portal is an open community platform to connect and bridge the worlds of port operations and smart technologies. You can check the SPEED Portal for more information and to register. SPEED Portal is one of the deliverables of the SPEED Project, and is developed and maintained by BU. Major events, outputs and some deliverables are shared on the portal.
We had the dissemination and closure event for the SPEED project as well as a networking opportunity for future collaborations on 25th of November 2022. The one-day event was very successful with several presentations and discussion sessions, and many BU students, colleagues and external guests from different disciplines attended the event.
More information is available on the SPEED website and https://www.smartportsecosystem.com/
You can also contact the project's PI Dr Deniz Cetinkaya dcetinkaya@bournemouth.ac.uk or Co-I Dr Gernot Liebchen gliebchen@bournemouth.ac.uk if you have any questions.