The Nepal Family Cohort Study (NeFCoS) is a multidisciplinary cohort study into the prevalence, incidence, and determinants of various diseases from childhood to adulthood in children and their parents for over two decades.  NeFCoS is a longitudinal study which recently started collecting health and well-being data, and which will collect data repeatedly from the same individuals at certain intervals for years to come.  Our primary focus is understanding the multiple risk factors of health conditions in children and their families, early diagnosis of diseases, and prevention and management of diseases through effective intervention.  The team aims to this by examining associations between exposure to known or suspected causes of disease, so-called risk factors and subsequent morbidity and mortality.
Our large international team is led by Dr. Om Kurmi, Associate Professor and Respiratory and Environmental Epidemiologist at Coventry University in the UK, and associated with McMaster University, Canada.  The Bournemouth University team comprises Dr. Pramod Regmi (Senior Lecturer in International Health), Dr. Edwin van Teijlingen (Professor of Reproductive Health), and Dr. Vanora Hundley (Professor of Midwifery).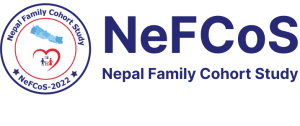 The team is currently recruiting six-to-nine-year-old children and their parents who have provided written consent to participate. The parents offer information on socio-demographics, lifestyle factors, dietary habits, occupational history, educational history, environmental conditions at home and outside, physical activities and any diseases they or their children have had since birth. They also undergo a series of measurements such as lung function, oxygen saturation, blood pressure, hand-grip strength, anthropometry, body fat percentage, muscle mass, body water content and skin-fold thickness as an indirect measure for malnutrition. The study is also measuring eleven different parameters in spot urine samples semi-quantitatively and plan to collect the biological specimen in future follow-ups studies. The study is currently being conducted in two regions of Nepal in the south, the Terai and in the more central hill part of the country, with plans to expand to extend to other provinces of Nepal in the future.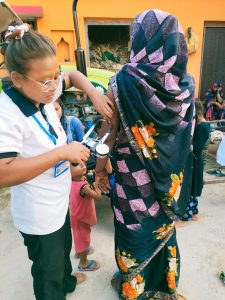 The baseline study is ongoing. So far, the team has collected over 4250 participants' data from both study sites. We plan to complete the baseline data by the end of December 2023 with about 15,000 participants from the two regions.  Our study is urgently needed in Nepal as it will provide valuable information for evidence-based decision-making regarding disease prevention and management along with changing policy.
Prof. Edwin van Teijlingen
Centre for Midwifery, Maternal & Perinatal Health (CMMPH)