The Institute of Medical Imaging and Visualisation (IMIV) is pleased to announce the launch of the IMIV MRI Research Project Scheme 2023.
Under the scheme, two innovative MRI research projects will each be awarded up to 100 hours of scanning time on the IMIV's state-of-the-art 3T Siemens Lumina MRI scanner.  Applications for the scheme are now open.
The focus of the scheme is on multi-disciplinary and cross-institutional projects, and priority will be given to projects with a clinical partnership.
All research projects must have a Bournemouth University researcher as lead or co-lead applicant.
Projects must be able to demonstrate how they will lead to peer-reviewed academic outputs and external funding applications for further MR imaging studies.
Up to 100 hours of scanning time will be awarded to up to 2 research projects. The award will not cover any additional expenses related to scanning, or other aspects of the project.
Projects will be expected to start in the 2023-24 academic year.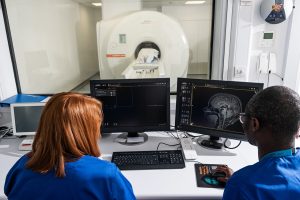 Applications close on Friday 7th July 2023. 
For further information and an application form, please email imiv@bournemouth.ac.uk