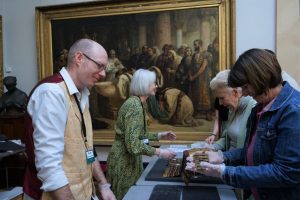 This Monday, 11th of September, BU is running a Research and Knowledge Exchange Explorer Event at the Russell-Cotes Gallery and Museum as part of a developing partnership between the two institutions.
Event Details:
Book your place on Eventbrite: Russell-Cotes Partnership Explorer Event Tickets, Mon 11 Sep 2023 at 16:00 | Eventbrite
The Explorer Event is an opportunity to discuss and develop possibilities for collaborative research and knowledge exchange connected to the Russell-Cotes' world-class anthropological, archaeological and art collections from across the globe, as well as:
– exploring possibilities for cultural heritage management;
– local seaside tourism;
– Digital and virtual heritage;
– diving into the archives (inc. theatre, local history and beachfront tourism history of Bournemouth);
– wellbeing connections to arts and heritage,
– investigating heritage tourism potential.
With the guidance of Russell-Cotes staff you will have the opportunity to see some of the collections on display, including a number of collections from across Asia, as well as hidden in the stores, in more detail and discuss with Russell-Cotes experts. It's also an opportunity to make connections with other BU academics to develop potential cross-disciplinary projects over coffee and cakes.
The History of the Russell-Cotes Collection
I caught up recently with Sarah Newman, the Manager, to find out a little more about this hidden gem on the cliffs of Bournemouth Beach:
'It's an is a very special place because it's a very personal collection, so you get from the sublime to the ridiculous' said Sarah. 'It captures a moment in time, with the collection exhibited in the context for which it was bought and collected for, which is very unlike other museums. There are some small houses where historic collections survive, but here it is a much larger collection, drawn from around the world. Where else do you walk out of a Heavily Victorian grand house out on to the spectacular beach-cliffs with a view out to sea! Until you experience it you can't understand it, the atmosphere here is so special, the house itself is also a precious 'object', and the eclectic nature of our collections really makes it sparkle'.
The collection was created, and then gifted to Bournemouth, by a couple who travelled the world as tourists and this makes it entirely unique. Sarah told me more about how the collection came together: 'Merton Russell Cotes was a self-made man, yes he was rich, but he was just an average person who became an entrepreneur, someone from relatively humble origins in Victorian society; but the society allowed people to develop socially through love and interest, which is what he and his wife Annie did.'
But there is another very interesting aspect to the Russell-Cotes that is different from other collections, as Sarah explained:  'In many collections nowadays people are addressing empire in relation to Victorian world travels, as a museum we are very transparent about how things were paid for, and how they were collected by Merton and his wife as tourists. There are few contested pieces here, and there is certainly some 'cultural bling' items created for the 'tourist market', as well as some truly special pieces, including objects in our Japanese collection. At the time the couple were visiting Japan it was the end of the 'isolation' period and people wanted to get rid of the old and were happy to give things away. There are also pieces that the Russell-Cotes' were given on their travels – there are so many different stories and some real hidden treasures. You can't pigeon-hole the collection…there are no grand colonial narratives here.'
'But what you do have is the story of Merton and Annie as a couple, and how they created their dream home. How inspiring is that – what would you do? It's family story and of how they expressed their philanthropy and love of global cultures.  But it's also a story about how Bournemouth was developed as a tourist resort, with the narratives of the people who live here and the people who visited here. You can see that Merton was right on that and made a virtue out of necessity with the art that he was buying and selling he was definitely wheeling and dealing. He thought about things in terms of 'Yes this is a wonderful piece of art I can let you buy, and of by the way it comes from Bournemouth and I happen to have a hotel there did you know?
He was opening Bournemouth up to the world at a time when people wouldn't necessarily have had access to information about it. But is was a kind of enlightened view, yes he was doing things for himself as a businessman, but there was also the philanthropy aspect, where he wanted to share what his family loved and had. So we also have wonderful little collections like theatre history, costumes, musical instruments, which are completely untapped. There is so much that would benefit from further examination.'
Contact:
With the BU Partnership we are are just at the start, and the Explorer Event is a great way to open up opportunities and inspire academics. It's all about the conversations now, so join us at the Event on Monday – go to the Eventbrite link at the top of the blog to book your place!
Any queries, please contact Wendelin Morrison, Knowledge Exchange Manager: wsmorrison@bournemouth.ac.uk