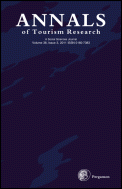 Dr Scott Cohen in the School of Tourism has had a paper published in the latest issue of the Annals of Tourism Research, one of the most prominent journals in the field of tourism.
The paper explores the concept of what has been termed 'binge mobility' or 'binge flying' – the notion that excessive tourism could constitute a new behavioural addition. Scott co-authored the paper with James Higham and Christina Cavaliere from the University of Otago, New Zealand.
The Annals of Tourism Research is rated a 4* journal in the Association on Business Schools' journal ranking list –  the ABS Journal Quality Guide – and has a Web of Science impact factor of 1.95.
In addition the paper was one of only five papers featured in Elsevier's July 2011 Flash Alert, Elsevier's monthly round up of the top stories in the science, health and medical journals.
You can read a copy of the paper on our institutional repository BURO.
Congratulations Scott! 😀