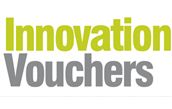 Small UK businesses, from the 24th September 2012 will be able to obtain Government funding to help them develop and grow with the launch of the Innovation Voucher scheme to be managed by the UK's innovation agency, the Technology Strategy Board (www.innovateuk.org).  The scheme will enable start-up, micro, small and medium-sized businesses to access up to £5,000 worth of advice and expertise from universities, research organisations or other private sector knowledge suppliers.
What are Innovation Vouchers?
Innovation Vouchers are designed to encourage businesses to look outside their current network for new knowledge that can help them to grow and develop. Start-ups, small and medium-sized businesses from across the UK can apply for an Innovation Voucher. A grant of up to £5,000 is available to businesses to work with a supplier for the first time and is used to pay for knowledge or technology transfer from that supplier. The voucher has three key criteria:
The idea that you want help with should be a challenge for the business which requires specialist help
It should be the first time that the firm has worked with the knowledge supplier
The idea should be applicable to one of the three priority sectors – agrifood, built environment or space
Benefits to business
An Innovation Voucher should stimulate a company to explore bringing new knowledge into the business, enhancing its ability to develop innovative products, processes and services and explore new markets.
Examples identified include:
Ideas for new or improved products, processes and services;
Using design to improve ideas;
Managing intellectual property
Innovation Voucher schemes are an ideal way of bringing the University and SMEs together to support activity that can evidence positive impact, provide case material for curricula, and in some circumstances research opportunities. The voucher could also be the forerunner to future bids to the Technology Strategy Board or European competition or grant leading to further shared resource.  The Technology Strategy Board will monitor the scheme's progress and have indicated that they will consider extending it to other sectors in future.