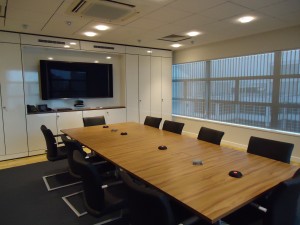 The sixth floor of the Executive Business Centre (EBC) on the Lansdowne Campus has recently been refurbished to include a Briefing Centre, an impressive new facility which is now available for staff to use when meeting and hosting external visitors and contacts. Co-located with the Centre for Entrepreneurship, it offers the ideal venue to brief external clients.
The Executive Briefing Centre suite consists of a Reception area with sofas and Welcome Desk, two large state-of-the-art meeting rooms (EB602 & EB603), as well as access to the floor's kitchenette facilities. The purpose of the Centre is to provide suitable meeting space for all staff and students to book when hosting external visitors, with the aim of facilitating links and engaging with the business community. Such meetings may include developing consultancy projects and research opportunities, media relations, student consultancy assignments, and more. 
The larger of the two rooms, EB602 which sits 12, houses an exciting state-of-the-art HD video conferencing system which enables real time broadcast of video and audio as well as the transmission of computer graphics over the internet. A network-based image store is also available, and lighting in this room has been specifically designed to enhance the quality of the video calls.
Bookings and access – To book either of these two superb meeting rooms please use the Room Booking Request form on the Estates and IT Services web page, http://www.bournemouth.ac.uk/itservices/index.html. If you require EB602 for a video conference, please fill in the relevant information on the request form.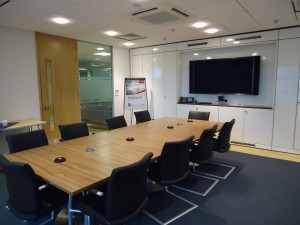 In order to access the meeting rooms, please collect key card/s from the EBC Reception and ensure that all cards are returned on your departure. The information on the confirmation email includes a link to the Chartwells website to order catering, as well as information on how to book car parking for external visitors.
Instructions on how to use the AV equipment are available in the meeting rooms in paper format, however training can be given on how to operate the equipment in advance of your booking. Please call the IT Service Desk on 01202 965515 in order to arrange this, if required.