Collaboration Tools for Academics (CTA) is one of the projects currently running at BU, sponsored by Prof Matthew Bennett. Steve Webster is the Business Analyst (EITS) working on the project and he has provided a project update. There is still the opportunity to run a fact finding workshop in your Research Centre, Academic Group and/or School so you can shape how collaboration tools are used and supported at BU in future.
The aim of the project is to facilitate collaborative working within and beyond BU and therefore raising the research-enterprise profile of the organisation. This will be achieved by making it easier for academic staff to work in a collaborative manner. In order to do this, the project will first identify what you currently do as a collaborative researcher and a member of academic staff and also identify where you feel the need for support in these activities.
There is an ongoing fact finding exercise that is trying to develop understanding in two areas. First there is an effort being made to understand people's experience levels both in collaboration and in I.T. This is to ensure that all members of the community have their needs understood. Second there is an effort to understand the research activities that all members of the community are involved in.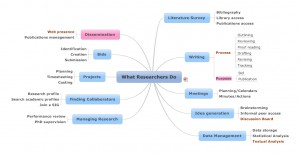 This mind map (click on the image to make it larger) has been used to generate discussion in a series of workshops. If your research group would like to run a packaged version of this workshop please contact the business analyst Steve Webster who will be pleased to help you set things up.
The final aim of the project will be to make visible and available a set useful services that you can use in support of you collaborative work. The services that get put into this set are not yet agreed. The kinds of things that you might like to have easy access to could include: blogs, wikis, voice and video conferencing, shared social space, installing novel software, survey software, data analysis tools. But these are all just examples.  You still have an opportunity to get involved and contribute to shaping the future support offerings for researchers in BU and beyond.
Do you use collaboration tools to work with colleagues at the moment? If so let us know what works and what doesn't work so well by commenting on this post!