Big Ideas for the Future
Thursday's theme is Big Ideas for the Future and a research project being undertaken by Prof Alan Fyall and Dr Heather Hartwell has been highlighted in a new report out today.  The report produced by Research Councils UK (RCUK) and Universities UK (UUK) called Big Ideas for the Future looks at 100 ground breaking pieces of research from all fields, including science, social sciences, engineering, and the arts and the humanities, that is taking place in UK higher education at the moment and what it will mean for us in 20 years time.  The report is narrated and backed by high-profile celebrity academics such as Professor Lord Robert Winston, Dr Alice Roberts and Professor Iain Stewart.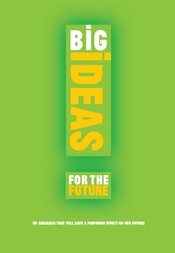 The BU research team are exploring the relationship of co-locating a tourism and public health strategy, in particular examining the positioning of seaside towns in Southern England.  The Big Ideas for the Future Submission prepared by the team and containing more information on the research is available by clicking the link.