I'd like to introduce you to Symplectic Elements – our soon-to-be new research management system. You might have heard colleagues talking about Symplectic Elements for a while now – the supplier (Symplectic Ltd) first visited BU to demonstrate the application in August 2009. I'm pleased to announced that we have now signed the contract with Symplectic and are in discussions with the supplier to determine the implementation plan. The aim is to have the system up and running this autumn.
Symplectic Elements is already used by lots of other UK universities, including Imperial College, Oxford, Exeter, Cambridge, UCL and Plymouth.
So what is Symplectic Elements and what benefits will it bring to BU? Symplectic Elements is a research management system. It will not replace any of our existing BU systems (such as BURO or RED) but it will link to them and join them together, sharing data between the systems. This means that BU staff will be able to add information to Symplectic Elements and it will be used in multiple systems. You will also be able to access research information from a single place. A single point of data entry will enable research information (such as publications data) to be automatically formatted and reused in other forums, such as in BU's open access repository (BURO) and the BU staff profile webpages, without the need for duplicate or additional data entry. You will also be able to query data that appears to be missing or incorrect.
Symplectic Elements will provide academics with a simple 'dashboard' from which to view and manage their research information. This will also help when BU begins compiling data to meet the requirements of the REF.
How will Symplectic Elements link with the existing systems?
Symplectic Elements will link to our Research and Enterprise Database (RED) so you can see your current bids and projects. From within Symplectic you will also be able to link yourself to the PGR students you supervise.
It will link to BURO so that your research outputs are entered into the repository.
It will also link to a number of external publication databases (including Web of Science and Scopus) and automatically search these for your publications. When it identifies a paper it thinks might be yours it will send you an email and ask you to confirm it is your paper. If it is then all you will need to do is to tick 'yes' and Symplectic will create a record of your publication automatically. You will simply need to add a full-text copy of the paper (copyright permitting) and it will be uploaded into BURO.
Symplectic Elements will link to the new content management system and you will be able to choose which information is used on your staff profile webpage.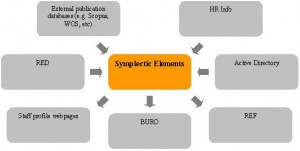 Timeframe for implementation: A broad steering group of representatives from across BU's Schools and Professional Services has been formed to help feed into and guide the system's implementation. A core project management group is currently overseeing the day-to-day tasks and will manage the initial data integration and checking. A meeting with the suppliers is scheduled for the end of the month. The system is due to go live in autumn 2011.
Further updates about Symplectic Elements will be posted on the BU Research Blog in due course!