Research by Age UK estimates that falls amongst older people in the UK could be costing the NHS in excess of £4.6m a day, with up to one in three people over 65 falling each year. Falls account for over 50% of hospital admissions among the over 70s, with around 14,000 older people dying annually in the UK after a fall. Evidence suggests that if older people regularly take part in exercise specially designed to improve strength and balance then their risk of falls can be cut by up to 55%. Dr Samuel Nyman in the Psychology Research Group (DEC) undertakes research primarily focused on the psychosocial aspects of falls and their prevention in older people, and has a particular interest in helping older people become physically active to prevent falls. His work has focused on how internet-based falls prevention advice can be made more motivating and inspiring for older people, and he was invited as a guest speaker to present his research at Arthritis Research UK's Musculoskeletal Educators Conference in June 2011.
Samuel is part of a multi-disciplinary team of researchers, led by Prof Marcus Ormerod at the University of Salford, who have been awarded funding from the MRC-led cross-council Lifelong Health and Wellbeing programme to conduct a year-long pilot study called: "Go Far (Going Outdoors: Falls, Ageing and Resilience)". Go Far starts in January 2012 and will investigate the role of the outdoor environment in shaping health inequalities, explore older people's experiences of falling outdoors, develop and test tools and techniques to evaluate the relationship between at-risk people and the outdoor environment, and develop a clear road map for future cross-disciplinary research in this area. The project will also involve experts from Age UK, the UK Health and Safety Laboratory, and Toronto Rehab.
Working with Dr Claire Ballinger (University of Southampton) and Prof Judith Phillips (Swansea University), Samuel's contribution will be to explore through focus groups older people's perceptions of the key risk factors for falling in the outdoor environment. This aspect of the project will lead to an understanding of the environmental risk factors which have yet to be accounted for in the current evidence base. Overall, the project will develop a greater understanding of the many factors involved in outdoor falls and create practical tools which will significantly help older people's health and wellbeing.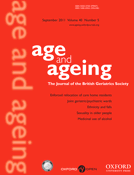 Prior to this project Samuel undertook a systematic review of older people's participation in falls prevention interventions. Earlier this year Samuel presented this research at a symposium in Italy for the European Congress of the International Association of Gerontology and Geriatrics, which he also co-chaired. He will also present this work as one of the six selected oral presentations at the forthcoming 12th International Conference on Falls and Postural Stability to be held in Manchester on 9 September 2011. The work has also been published as two journal articles in Age and Ageing, a leading international geriatrics journal:
Samuel is currently developing a website to use with older people later this year with the aim of identifying further (with the use of psychological theory) what are the best ways of communicating falls prevention advice to older people to facilitate their ability to continue to lead healthy, independent, and active lifestyles.