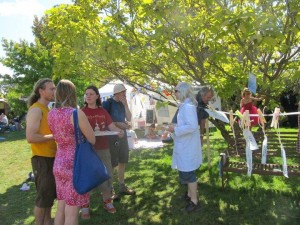 Following the BU Research Blog entry of 12th July, entitled 'Music festivals are an ideal place to share science', Dr Richard Madgwick, Lecturer in Archaeology in the School of Applied Sciences took up the challenge of festival outreach at this year's Green Man Festival in the Brecon Beacons (19th-21st August).  In collaboration with Dr Jacqui Mulville, Matt Law and their team from Cardiff University, Richard was involved with the 'Back to the Future' stall in Einstein's Garden, an area of the festival devoted to scientific outreach aimed at a young audience.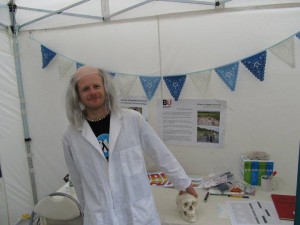 Dressed as Doc Brown from the iconic Back to the Future movies, Richard delivered activities and workshops on a range of archaeological topics. These included 'Future Animals', a popular workshop developed with the aid of Beacons funding and a Leverhulme Artist in residence (Paul Evans). This involved short sessions on evolution and artificial selection combined with creative activities culminating in the design an animal of the future, a Swiss army gecko, being voted as a favourite.  For 'The Washing Line of Time', festival-goers had to pin up objects and events from the past on a washing line labelled from a million years ago to the present day. 'Who am I wearing?', involved workshops on the wide-ranging resources used in the production of clothing in the past and 'The Five minute Dig' was a small-scale sandpit excavation for under 10's.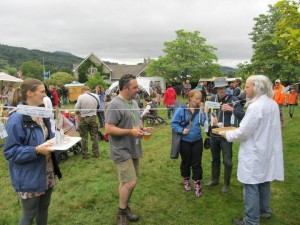 The event was massively successful with well in excess of 1,000 people of all ages visiting the stall and engaging in activities over the weekend. Feedback was hugely positive and follow up events at other festivals are already in the initial stages of planning. 
All of the photos were taken by Paul Evans.