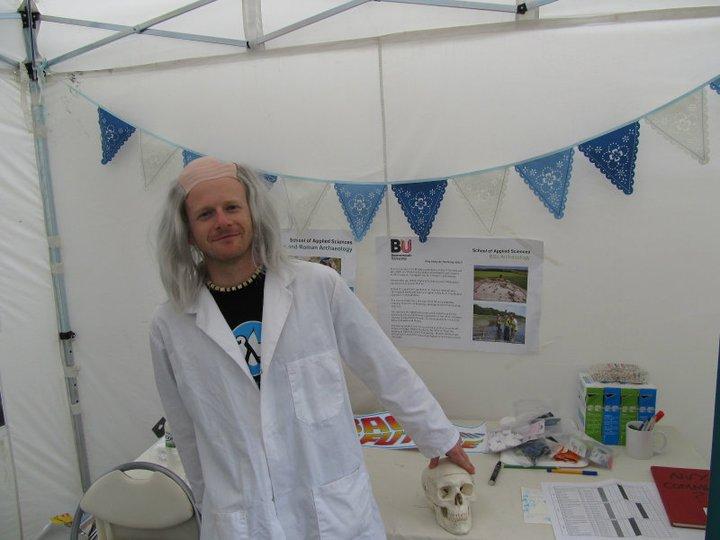 If, like me, you are dreaming of the weather being a  bit warmer and long summer evenings, you might be interested in opportunities to take your research out of the university to some of the UK's most exciting music festivals.
A number of opportunities have been brought to my attention which I am very keen to BU does not miss out on! Please do contact Becca if you would like more details, or an idea of support available to develop your ideas and take them to the Festival loving public.
We have an opportunity to be part of the science tent at Bestival. You can get a sense of the sort of activity that works well from University of Southampton's write-up, here – the more creative and interactive the better – and don't forget that science can be understood in very broad terms! The Festival blurb says: "Bestival's Tomorrow's World field is all about envisaging an inspired, sustainable, green and fun future. Alongside the solar powered Bandstand and Besti-versity Tent is our very popular Science Tent. An eclectic mix of science and technology, with a splash of art; the Science Tent brings together scientists with an exciting and revolving range of interactive demonstrations and exhibits". If you want to get involved, please contact Becca
We have the opportunity for speakers at Bestival in the Besti-versity tent – this would suit the most engaging speakers! The Bestival website says:  "If you're up for some mind-expanding experiences at Bestival 2012 then you need to check our new Besti-versity Tent which will be inspiring one and all with a series of compelling talks by the cream of the future-thinking crop, running the gamut of intrigue from the weird & wonderful to the scientific and downright nerdy!" Again, if you want to get involved, please contact Becca.
If you have got a brilliant idea or on-going activity to engage young people (and their parents!) then get in-touch. We might have an opportunity to take a family friendly activity to this family focused festival, just down the road from BU at Lulworth Castle. If you want to get involved, please contact Becca
There is also an open call for activities at the Green Man Festival in "Einstein's Garden's vibrant program of workshops, installations and performances blends science and nature with entertainment, art, craft and design. If you have an artistic boffin brain then please get in touch with your outstanding idea". For full details, click here. BU has been to Einstein's Garden before – read all about it on this blog post. If you want to get involved, please contact Becca