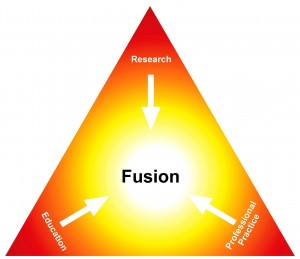 On the afternoon of the 14 December 2011 we will be launching the Fusion Seminar series with an event focused around launching the eight BU Research Themes.  It would be great if you could hold this date within your calendars and register for the event.
January through to March the monthly Fusion Seminar series will focus on sharing research, education and professional practice within BU and will culminate in April in a one-day Fusion conference involving both staff and students when the key research themes will be centre stage.  Dates for these events are:
18 January (1.5 hours)
22 February (1.5 hours)
21 March (1.5 hours)
18 April (whole day)
The event on the 14 December is the first in this programme and will focus on Fusion within the eight BU Research Themes.  Following consultation these themes are now fixed as: (1) Health, Wellbeing & Aging; (2) Culture & Society; (3) Creative & Digital Economies; (4) Entrepreneurship & Economic Growth; (5) Environmental Change & Biodiversity; (6) Green Economy & Sustainability; (7) Leisure & Recreation; and (8) Technology & Design.  The event will combine time for cross-BU networking within these themes, with some short keynote talks by theme champions focusing on defining the challenges in education, research & practice within each theme.  We are still looking for one or more champions per theme to step forward and help shape the theme and also the event on the 14 December.  Please get in touch with either myself or Julie Northam.  Once we have all the speakers in place we will be back in touch with a full programme.
You can register for the event and sign-up for the themes most relevant to you using the form below.  It is important to register for the themes that interest you so that we can schedule the parallel sessions accordingly to avoid clashes!
Best wishes
Matthew