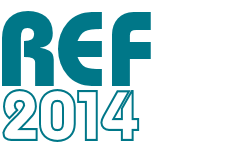 BU will be hosting a half day Research Excellence Framework (REF) event, supported by the REF team, on 22 February 2012 to which all staff are invited to attend.
Book your place now by completing the online registration form 
This event follows hot on the heels of the first REF event held at BU on 19 May 2011, to which over 150 delegates from 39 institutions attended (see our previous blog post – The excellent REF event at BU!).
The sector-wide consultation on the proposed REF panel criteria closed earlier this month and the final documents are due to be published in January 2012. This event will provide an update on the current developments with the REF and the confirmed REF panel documentation, focusing specifically on the assessment of impact within each of the four Main Panels.
The event will be open to BU staff and external delegates and the provisional programme is shown below.
Time
Activity
09:30 – 10:00
Coffee and registration
10:00 – 10:30 
REF Team overview of the assessment framework
Chris Taylor, Deputy REF Project Manager, REF Team
10:30 – 11:00
Similarities between the four Main Panel working methods and criteria
Professor Stephen Holgate, Chair of Main Panel A
11:00 – 11:30
Morning break
11:30 – 12:15
Panel specifics, differences and impact assessment
There will be concurrent sessions, one for each of the four Main Panels. Attendees choose which one to attend.

Main Panel A:   Professor Stephen Holgate, Chair of Main Panel A
Main Panel B:   Professor Philip Nelson, Chair of sub-panel 15 (General Engineering)
Main Panel C:   Professor John Scott, Chair of sub-panel 23 (Sociology)
Main Panel D:   Professor Bruce Brown, Chair of Main Panel D

12:15 – 13:00
Panel Q&A session with all participants
13:00 – 14:00
Lunch, networking and close
The event is free to attend but booking is essential.
Book your place now by completing the online registration form