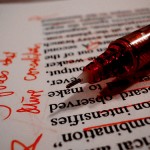 Have you a paper to write?  Do you want to write it well?  Do you need space to focus on developing academic writing skills?  This full-day course is designed for staff at an early stage of their academic careers who write papers or reports as part of their research work. The course consists of intensive tuition and gives participants immediate, useable methods of improving style, developing arguments, strengthening organisation and avoiding common errors, all with the aim of producing succinct and informative prose in a well-organised academic framework. 
The day itself involves instruction, group exercises and discussion, all designed to enable participants to increase the quality of their writing and to develop their confidence and critical thinking.  In addition, there is advice on how to successfully communicate the subject matter.  You can view an outline of the day.
This will be a full day workshop taking place on Tuesday 13th December.  If you would like to attend please email Susan Dowdle asap as there are only a few places remaining.