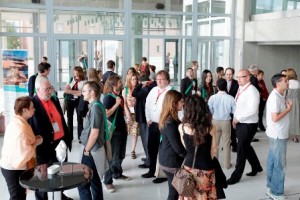 I have recently returned from the World  Media Economics & Management Conference in Greece – many thanks to the EUNF.
This event is a biennial meeting of the global community of media business scholars who reflect on contemporary issues in the economics and management of media industries and firms. It aims to provide to a platform for academics who research in this area to meet and network. I was particularly interested in developing relationships and collaborative project ideas with a number of academics from EU universities including Jönköping International Business School, Sweden; Tampere University, Finland; the Berlin Media Business School, and the University of Vienna, Austria.
I met with academics from all of these institutions (and others) and discussed how we could collaborate on the opportunities provided by the Creative Europe fund (2014-20) and any other related media funds that they were aware of.  As a result of the EUNF I have established contacts and am now in the process of working up 2 outline projects for the Creative Europe fund. I have also been invited by the University of Vienna to be a Key Note speaker at their European Summer School for media related doctoral research students, and am in the process of assisting an Eramus exchange between BU and the University of Zaragoza.
Many thanks BU EUNF, it's a great initiative!