This Friday marks the 2nd event in the series of "Seen but Seldom Heard" events that are helping to give young disabled people a voice through poetry.  Taking place in the Marconi Lecture Theater at Talbot Campus this event features voices of professional performance poets alongside the students from the Victoria Education Centre performing their work.
'Seen but Seldom Heard' is an on-going collaboration between academics from Bournemouth University, pupils from Victoria Education Centre and performance poets, Liv Torc and Jonny Fluffypunk, which enables young people living with a disability to find a voice through poetry. The teenagers involved have produced potent and emotive poems which explore perceptions and representations of disability within society using their own individual and collective experiences.  Find out more  on their website along with examples of poems produced by the young people and a taste of what the event will involved.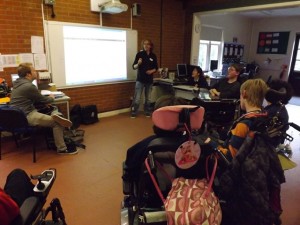 After the stunning success of their inaugural event at the ICCI360 Arena in Weymouth you don't want to miss out on this opportunity to see these performances so please RSVP now to reserve your place! The performance will begin at 5:00pm and will be followed by a drinks reception where a poetry book will also be available for purchase with proceeds going towards the funding of a Poet in Residence at Victoria Education Centre.
Where: Marconi Lecture Theatre
When: 5pm Friday 21st September
Cost: Free but you should RSVP now to reserve your place!