The EU Academic Development Scheme (EUADS) is a unique scheme developed to kick start your career in EU research; it's open to all BU academic staff relatively inexperienced in gaining EU funding.  The EUADS will help you build up to making a submission by providing unlimited 1-2-1 support from an expert EU bid writer, group mentoring and unlimited assistance in actually writing your application over a 12 month period. As if this training wasn't fantastic in itself, and the supportive culture of being a cohort undertaking the journey of EU funding extremely appealing, the EUADS also includes an individual fund. Each successful participant will be provided with grants as requested totalling up to a whopping £3k each by to spend on activities supporting bid development, such as:
• Travel with the intent of networking
• Conference attendance with the intent of networking
• Pilot research work
• Fieldwork
• Attendance at external networking events leading to collaborative research proposals
• Meetings with external organisations to establish collaborations
• Preparation of specialist material or data
• Replacement teaching 
You can read more on this scheme in the EUADS Policy Document  and make a submission using the  EUADS Application Form; the deadline is 18.12.12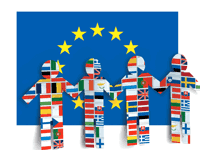 The EU Networking Fund (EUNF) is open to any BU academics who want to network across Europe with a view to finding collaborators. We have a pot of money to support this scheme, and the fund will end when the pot is empty.
You can apply for support for a range of activities relating directly to networking, such as:
• Travel with the intent of networking
• Conference attendance with the intent of networking
• Attendance at external networking events leading to collaborative research proposals
• Meetings with external organisations to establish collaborations.
You can read more on this scheme in the EUNF Policy Document and make a submission using the EUNF Application Form; there is no deadline.
There are plenty of EU initiatives to support you here at BU, so don't miss out!