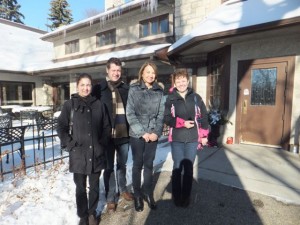 Following a successful fusion bid I (Michele Board) visited Canada in November 2012 to explore opportunities for research, education and practice that can be transferred to the BU/UK context. I was also promoting the newly formed BU Dementia Institute (BUDI), and build on our growing research interests with two Universities in Canada. The trip also included: a visit to the Canadian Alzheimer Association based in Toronto, Professor Pia Kontos at Toronto University, a Dementia memory clinic in Saskatoon, and delivering the key note presentation at fifth meeting of the Knowledge Network in Rural and Remote Dementia Care in Saskatoon.
Professor Pia Kontos at Toronto University was very interesting. Her research on person centred care reinforces the focus we have in our undergraduate nursing programme. She shared her creative approach for the dissemination of research, for example through drama and a new project she is undertaking around clowning. It is hoped 'clowning' will help build relationships with those suffering with dementia. See more information about her work at  http://www.torontorehab.com/research/kontos.html
The Alzheimer's Association education team, in Toronto, were very interested to hear about BUDI and the education we have undertaken with Nursing Homes. They also look to the UK as leaders in the formation of a dementia strategy, and the PM taking a lead in promoting and funding dementia research. They are working towards the formation of a dementia strategy.
Visiting the memory clinic in Saskatoon was very interesting. The principle of the memory clinic was fundamentally the same as the memory clinic I have been working in. However, where they differed significantly was on two aspects: all data they collected about patients and their carers/NOK, was used in research, and the use of Telehealth to provide ongoing monitoring and support to clients in remote areas of Saskatoon. Post graduate psychology students were offered placements with the team in the memory clinic. The students actively participated in research whilst developing their skill in cognitive testing. Patients and carer satisfaction was obvious, but it was also supported by the data collected of user satisfaction with the service provided. See this link for more information about the clinic and their research http://www.cchsa-ccssma.usask.ca/ruraldementiacare/
The memory clinic team, led by Professor Debra Morgan, have an annual conference inviting key stakeholders to hear about research undertaken in the previous year, offer suggestions for research plans and share best practice. There is a poster presentation and an award given to the best student poster. I was asked to be one of the reviewers of the posters and was impressed by the quality and diversity of research outputs from the memory clinic.
The key note presentation had four parts: an overview of BUDI and potential areas of mutual interest; the work I have undertaken in the memory clinic; my PhD findings and a tourist guide to Dorset! It was well received with many questions and expressions of interest in our work and visiting Dorset.
Finally the photograph shows me on the right, standing next to  Professor Morgan, Duane Munish and post graduate student, outside the universities 'Faculty Club'! A definite potential for a fusion bid I'm sure.
Faculy Club University of Saskatchewan