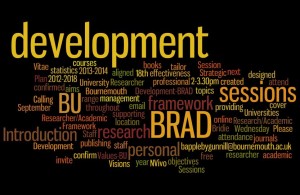 Calling all BU Researcher Staff,
We invite you to: An Introduction to the BRAD Framework and Development Sessions– Wednesday the 18th of September 2-3.30pm (location to be confirmed).
The University has created Bournemouth Researcher/Academic Development-BRAD. BRAD is a tailor designed research development framework with supporting development sessions, for BU's Research/Academic staff. The aims and objectives of BRAD are aligned to the Universities Strategic Plan 2012-2018, our Visions & Values-BU 2018, and Vitae's researcher development framework. BU is providing professional and personal development sessions and online courses throughout the next academic year 2013-2014, which are all free to attend. The development sessions will cover a range of topics, from statistics, NVivo, personal effectiveness, research management and publishing in journals and books.
Please email Bridie at: bapplebygunnill@bournemouth.ac.uk to confirm your attendance to the Introduction to BRAD Session