The Centre for Intellectual Property Policy and Management (CIPPM) held its third Spring Lecture on Thursday 25th April 2013. This was CIPPM's opportunity to celebrate World Intellectual Property Day (IP Day) 2013; a day for celebrating and promoting intellectual property and creativity.
Dr. Nicholas Saunders of Brick Court Chambers was the Guest Speaker at this event. Dr. Saunders specialises in commercial, EU and intellectual property law.  His intellectual property experience has included being involved in major patent disputes such as Nichia v Seoul Semiconductors, Interdigital v Nokia and Nokia v IPCOM, confidential information cases involving departing employees, trade mark infringement cases such as Jacobson v Globe, and numerous copyright and designs cases. He has particular expertise in the relationship between competition law and intellectual property and in cases involving conflict of laws issues.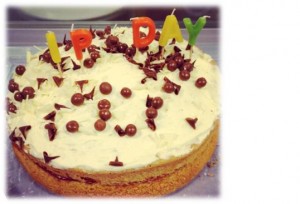 Dr. Saunders gave an interesting and thought provoking lecture titled "Litigation of patents essential to technical standards – what is the future for patent trolls"? He discussed the relationship between competition law and patent law, then told tales of patent trolls; revealing their motivations and tactics – such as non-essential patents being more valuable. He discussed injunctive relief, the proportionality principle and questioned if this should be available for standard essential patents. He highlighted some of the patent hold up issues such as royalty stacking, patent ambush and the effect that technology has had by bringing many standards together; for example an iPhone has an estimated 54,000 patents! More standards yield more essential patents, but litigation can be risky for patent trolls enforcing their patents as the courts can render them exhausted.
The event was brought to a close with drinks and nibbles and Dr. Saunders had the honour of blowing out the candles of the CIPPM IP Day cake!