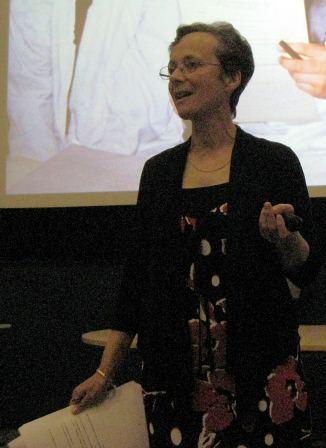 Undergraduate pre-registration first year midwifery students were enthralled at a recent theme day which formed part of their Intrapartum unit. The day is designed to celebrate diversity of women's experiences during labour where students get to listen to stories of women and midwives. This year's gathering was no exception.  First up was Rachel Arnold, a PhD student from BU. Her rich story, supported by beautiful photographs of Afghanistan, highlighted the plight of women in that country, where maternal mortality is amongst the highest in the world. Rachel in her role as a midwife has worked with Afghan people for many years and as she shared her experiences we began to see that Afghanistan is more than 'suicide bombers and conflict', it is about ordinary people who struggle to survive each and every day. Rachel's talk inspired the whole audience and many students were interested to find out if they could go to Afghanistan for their elective which occurs in the 3rdyear of their training.
"It was wonderful to have a midwifery perspective from this country and the lecture was inspiring and passionate"
"Very interesting and thought provoking talk which has made me think about my own attitudes on diversity"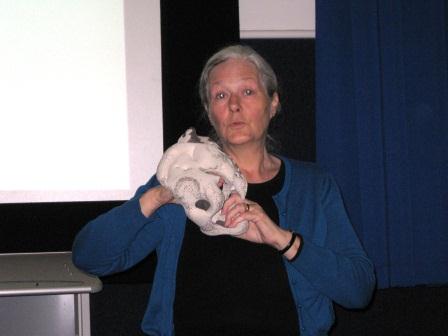 Jane Evans, an independent midwife, spoke about breech birth as a normal event during pregnancy.  She shared a number of photographs showing how a breech birth should be facilitated with the mantra "hands off",  and students were able to see how the baby rotated , flexed and birthed itself with the help of his/her mother adopting a variety of positions. The mechanisms were reinforced through Jane using a doll and pelvis to further enhance student understanding. Many midwives are losing their skills within breech birth as women are often opting for caesarean section, but Jane was fortunate in that she was taught the craft of breech  (bottom down) birth by Mary Cronk, who specialised in independent midwifery practice with a keen interest in breech presentation.
Mary is now retired but thankfully her many years of experience were passed onto Jane who shares her knowledge widely through study days and of course with the midwifery students at BU.  Many of the students' views were changed following Jane's presentation, as the following quotation demonstrates: "It was a privilege to hear this lecture. It offered a contrast to other breech perspectives and gave me more confidence as a student midwife to educate women that breech is merely another type of normal"
Sheetal Sharma, another BU PhD student provided the students with her insight into midwifery care in Nepal. She warned us that she was not a midwife, and was observing and recording midwifery practice as part of her doctoral studies. She provided a fascinating insight into how pregnancy and childbirth are perceived in Nepal where women have no rights within their own homes and are subject to the control, whims and superstitions of their 'mother-in-laws'.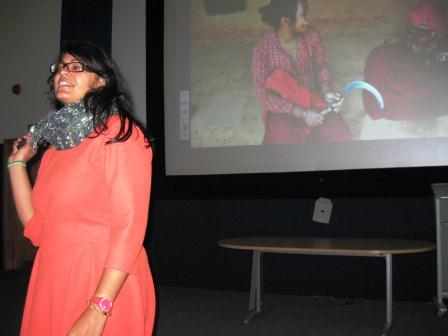 There were also parallels with Afghanistan in relation to maternal mortality, as around 4,500 Nepalese women die in childbirth due to a paucity of adequate healthcare or even skilled birth attendants.  Sheetal's presentation included fabulous photographs of idyllic scenes in Nepal, but also of women and children where smiles were abundant and hope was evident. Nepal has made significant strides to reduce maternal mortality and is now on track to meet Millennium Development Goal (MDG)4.
Sheetal explaining her photograph where a woman is shown holding a scythe. Not only is this a tool used in the field to cut vegetation but also as an implement to cut the baby's cord at birth.
The last presentation by Vanora Hundley, BU's Professor of Midwifery, focused on the global picture of maternal and child health, where some of the key interventions that save mothers and babies lives were highlighted. Vanora reminded the audience that, for example, having a skilled attendant at birth may not always be thought of as 'intervention',  but evidence shows that countries where women have access to midwives or an attendant with midwifery skills have significant lower maternal mortality rates. Finally, a note of caution was provided by Vanora around the challenges faced in high income countries, as the over-use of interventions by health professionals are having a damaging impact on mothers and babies.
The students really enjoyed the day as the following quotes illustrate:
"I have thoroughly enjoyed the theme day, it has been very informative and insightful – more so than I had anticipated".
"Fantastic to have a (nearly!) whole day of the wider context of midwifery. Inspirational – thanks".
"Absolutely superb day. Reignites the fire in your belly!"
"Really insightful day. Demonstrated the importance of the midwife and our roles, not just at home but around the world. It's nice to see the bigger picture".