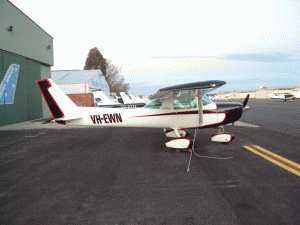 I recently had the delightful opportunity to go to Australia for a research visit in relation to my work on falls prevention among older people. A brief report of what I got up to follows.
Melbourne
The main purpose was to visit colleagues at Monash University, to whom I am grateful for funding my flights and accomodation. The research team there led by Anna Barker are doing some great work, in particular to prevent falls among older people while in hospital. They are currently collecting data on a '6 Pack' randomised controlled trial (RCT), which will be the largest trial of this kind to date. The team at Monash hosted an all-day seminar on the prevention of in-patient falls of which I was one of three invited speakers that came over from the UK.
Before the seminar, we had an all-day meeting with colleagues from Melbourne and other parts of Australia to have an expert consensus-style meeting on the subject of in-patient falls. Dr Barker will lead on this and we aim to submit a paper with further international collaborators later this year, to drive future research in this area in a much more focused and productive manner.
Before the expert consensus meeting, I spent a day working with Dr Barker's team on a recently NHMRC-funded multi-site RCT called RESPOND, which seeks to prevent secondary falls in older people presenting to emergency departments with a fall. It is a 1.5 million dollar-funded RCT that I am involved with as an advisor (from a distance). We're currently developing the intervention that will be employed later in the year after ethical approval. My involvement is to help in developing the behaviour change techniques that will be used, and the process evaluation that will run alongside the outcome evaluation of the intervention. I also met with other colleagues there at Melbourne and have generated further ideas for future collaborative projects.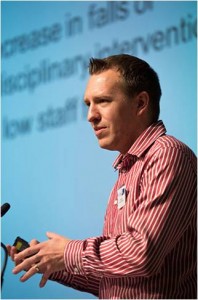 Conference presentation in Melbourne
Sydney
After my stay in Melbourne, I had a short stay in Sydney as there is a strong critical mass there in the falls prevention field. I met with professor Lindy Clemson who has developed a novel approach to promoting physical activity among older people, with her trial published in the BMJ last year. We had a long discussion that helped her with the theoretical underpinning of the approach, and I've come away with a few ideas to take forward in a future collaborative grant proposal.
I then went on to visit Dr Kim Delbaere who has been doing sterling work in the area of fear of falls, not least with several publications on the issue including a paper in the BMJ in 2010. We have at least one paper to work on together with potential for future projects as well, given she has developed a measure of fear of falls suitable for older people with dementia.
The mention of transport in the title of this report refers to my very brief time away from meetings while in Australia. In Melbourne they have a very efficient tram system, and our host's husband is a pilot and so took us up on a scenic flight over Melbourne in a tiny plane (4 of us sat snug in the back). In Sydney I managed to see the bridge, opera house, and a view of the harbour, and even got a trip on the monorail that was constructed for when they hosted the Olympic Games in 2000 but will very shortly be demolished.
We can of course email and Skype with colleagues, but if you do get the opportunity to travel abroad I can fully recommend it as a very fruitful and productive time. You just cannot beat face-to-face communication. I was particularly inspired by the international consensus meeting that we had in Melbourne and can see this as a way forward to synergise the research community's efforts and more quickly tackle the big societal challenges of our day.
Dr Samuel Nyman
Bournemouth University Dementia Institute and Psychology Research Centre
DEC