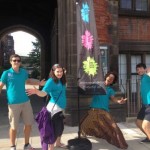 The British Science Festival is one of the largest science festivals in Europe. This year the science outreach team at BU was in attendance! At the beginning of the year we bid for inclusion in the Young People's Programme offering our My Community: Our Heritage workshops for key stage four pupils. Despite the competitive application process our bid was successful: we were asked to deliver two workshops for each day of the Young People's Programme at the Festival.
The workshop is based on an archaeology research project called The Stonehenge Riverside Project. Bournemouth University took part in the research project and afterwards developed a virtual project within Google Earth called Seeing Beneath Stonehenge. This can be downloaded for free from the BU website and allows people to explore the virtual landscape of the Stonehenge Riverside Project. Find out more for yourself at:
http://microsites.bournemouth.ac.uk/seeing-beneath-stonehenge/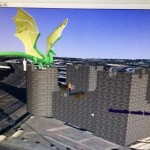 During the workshop pupils learn about both research projects and have the opportunity to handle real archaeology artefacts. Then participants create their own virtual tour within Google Earth.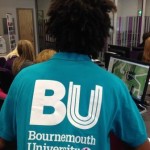 For the British Science Festival we taught the pupils to draw 3D models of Newcastle Castle Keep, import this into Google Earth and then create placemarks and video tours to other significant heritage sites in the area.
We had some great feedback from pupils and teachers alike:
Ian from St Bede's Catholic Comprehensive School & Byron Sixth Form College said 'It was AMAZING!'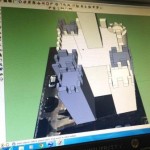 Kitty from The Academy at Shotton said she enjoyed ' learning new facts about different landmarks'.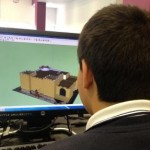 James from James Calvert Spence College said it was 'fun, useful & educational'.
Our trip to Newcastle was funded by a Fusion application under the staff mobility strand. This enabled us to take a large team up to the Festival to ensure our workshops would run smoothly.
Our team was made up of:
-Second year Applied Geography students Gian-Luc Angiolini & Adam Scammell
-Recent graduate Kirsty Holloway from the School of Applied Sciences
-Outreach & Liaison placement student Leroy-Winston Scott
-STEM Outreach Officer, Naomi Capell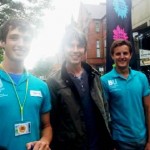 We attended several other sessions at the British Science Festival and met lots of friendly Newcastle University students. We even met Professor Brian Cox outside the Student Union!
The Young People's Programme was attended by 6,800 pupils in addition to many parents & teachers. It was very exciting to be part of such an important festival and a huge honour to be invited for such a substantial period of time.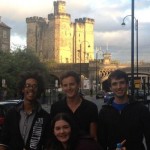 This term we intend to use our presence at the British Science Festival to promote our My Community: Our Heritage workshops to a wider range of target secondary schools in Dorset and the surrounding counties. Development of these workshops was initially funded by a Co-Creation and Co-Production Fusion award in Summer 2012. We also plan to deliver a conference for secondary school teachers based on the workshop next Spring.