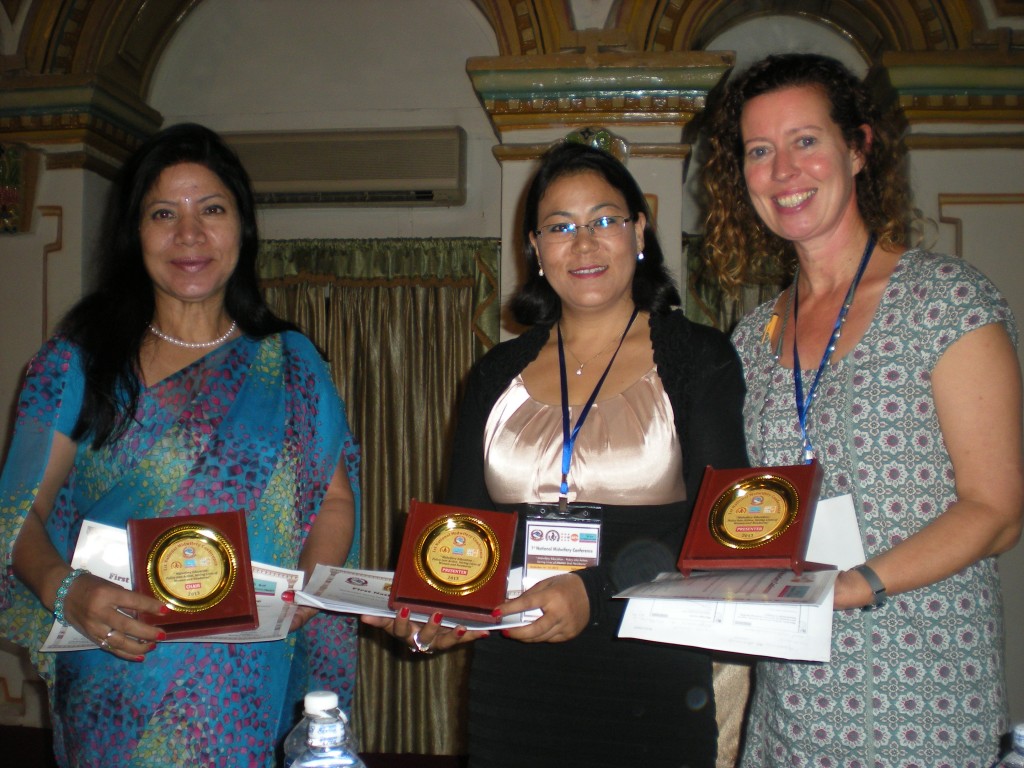 Lesley Milne, senior lecturer in Midwifery at Bournemouth University, presented this weekend at the First National Midwifery Conference in Kathmandu, Nepal.  She is part of a team studying why women in Nepal don't use health services when giving birth in areas where such facilities are available.    After her presentation Lesley (picture first right) was awarded a certificate and token in true Nepali style.
Lesley is currently in Nepal for fieldwork as part of the first International Fellowship for Midwives worth £20,000.  Her study uses a mixed-methods approach which comprises observation and interviews with staff.  The Fellowship has been awarded by the charity Wellbeing of Women, in association with the Royal College of Midwives (RCM), for research into maternity services and women's health from an international perspective.
The team consists of Prof. Vanora Hundley, Professor in Midwifery, Prof. Edwin van Teijlingen, Professor of Reproductive Health Research at BU, and BU Visiting Faculty Dr. Padam Simkhada based at ScHARR, the University of Sheffield. 
A second paper with BU input was presented by Joy Kemp Global who is the RCM's Professional Advisor (Global Midwifery Twinning Project).  The presentation 'A Feasibility Study of Professional Midwives in Nepal' is based on a paper recently accepted for publication by the international journal Midwifery.  This health policy planning paper is led by Swedish midwife Malin Bogren and in collaboration with Prof. Marie Berg (The Sahlgrenska Academy at the University of Gothenburg and Prof. Edwin van Teijlingen.
Professors Edwin van Teijlingen & Vanora Hundley
Centre for Midwifery, Maternal & Perinatal Health , HSC.