Community Lecture Events:
The Thomas Hardye School is pleased to announce that they have secured some fantastic and extraordinary guest speakers for the academic year 2013-2014, including; past TV weather forecaster Michael Fish and presenter of many TV programmes focusing on geological sciences, Iain Stewart.
The community lectures take place in the Thomas Hardye Lecture theatre at 7:00pm. Admission is free and tickets are available to collect from the school from 8.45am on the release date (release date is normally 2 weeks before each lecture). Please note that there is a maximum of 4 tickets per person and that tickets go very quickly and are given out on a first come, first served basis.
Thomas Hardye School Community Lectures Programme.
Science Family Fun Afternoon – Saturday 12 October 1:00-5:00pm
On the afternoon of Saturday 12th October, the Thomas Hardye School science department are running a hands-on family fun day event which will celebrate the life and work of Alfred Russel Wallace, who was the co-developer of the theory of evolution by natural selection. On the day, scientists from different external organisations, including; the Dorset County Museum and the Wildlife Trust will be presenting a range of displays, competitions and interactive activities. The event is suitable for those of all ages, entry is free and there will be light refreshments available!
Wallace 100 – 12th October pdf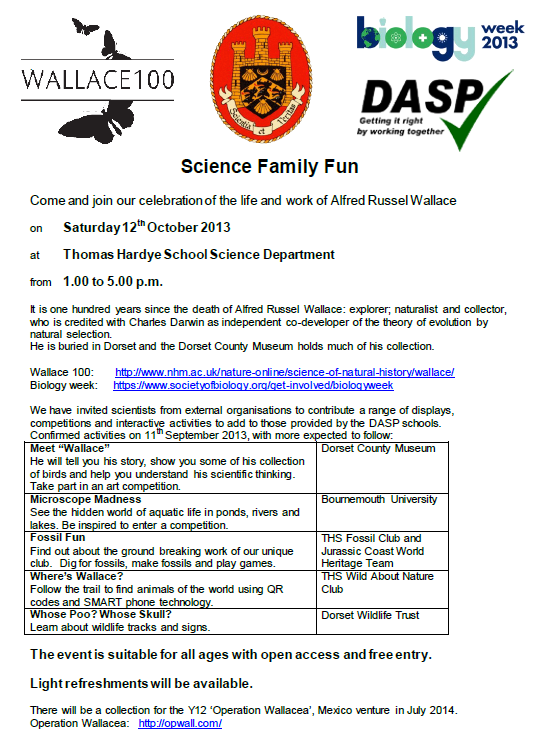 Cafe Sci
The Thomas Hardye School also participate in 'Cafe Scientifique', which is a series of informal events where people come to discuss hot topics in science with different experts from the scientific world.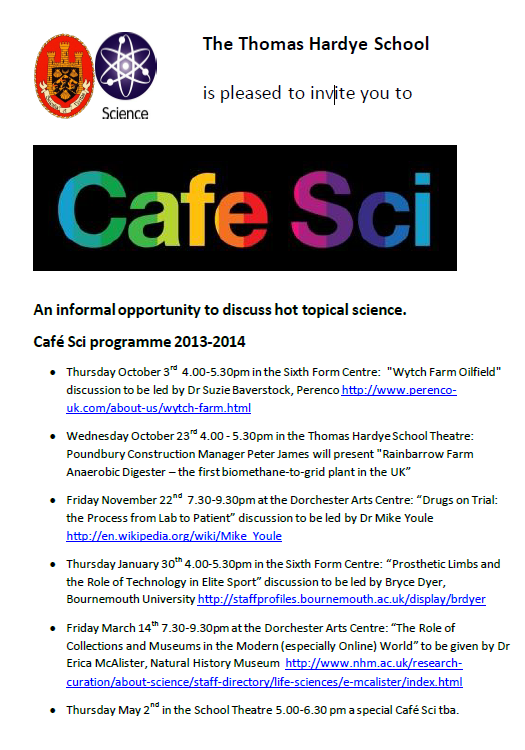 By taking a look at some of the events that The Thomas Hardye School are hosting, perhaps this could inspire you on what public engagement you could do?