Who says public engagement isn't fun?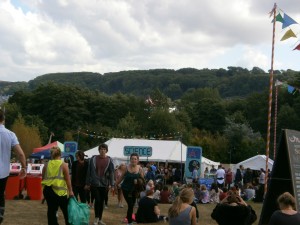 Who says public engagement isn't fun?  For those of you who are not yet convinced that sharing your research with a wider audience than your academic peers is exciting and fulfilling, perhaps you should read on!
As you may have read over the past few days, from 5th to 8th September 2013, I (Sharon Docherty, AECC) was part of a team of enthusiastic exhibiters in the Science Tent at Bestival, an end of summer music festival on the Isle of Wight.  Facilitated by Rebecca Edwards in the Research and Knowledge Exchange Office, this was the first year that a Bournemouth contingent had been invited to take part and it was a unique opportunity to work with like-minded colleagues from Southampton, Southampton Solent, Portsmouth and Keele universities as well as the National Oceanographic Centre in Southampton. So, we were determined to make the opportunity count. Along with Naomi Capell (BU STEM outreach officer) and a group of BU student and staff volunteers, I think it is fair to say that we did Bournemouth proud… well they've asked us back again. Furthermore, it was made even more successful with the superhuman organizational skills of Naomi Kay (she's the one that managed to stay sane helping to organise the Festival of Learning!).
For my p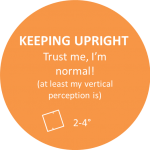 art, I ran a live experiment which tested how accurately people are able to perceive vertical. In return they received a sticker based on their error category, some people were extremely happy to be able to proclaim they were normal. By asking a couple of questions, I was able to compare males and females and also whether or not those who had consumed alcohol that day had errors that were different from those who hadn't. Although the conditions were hardly rigorously controlled, the results were interesting. Sorry ladies but the guys really are better at hanging pictures but most surprising of all perhaps was that we found people who had not had any alcohol for comparison…at a festival! From the sample tested (s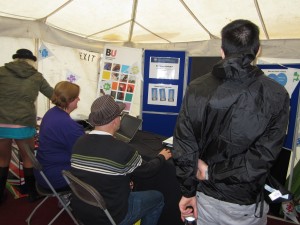 ee graph, n = 117 but I spoke to about three times as many people), it appears that alcohol does not have an effect on perception of vertical. Could this be that people were in "the zone" that improves the playing of darts and pool? Obviously the question requires further investigation… Now, where to look for funding??