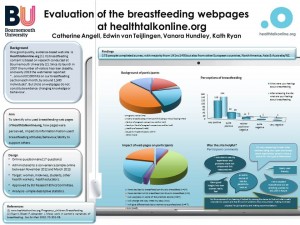 Dr. Catherine Angell, Senior Lecturer in Midwifery attended the annual RCM conference on November 13-14 in Telford.  Catherine presented an academic poster to highlight some of BU's key research in the Centre for Midwifery, Maternal & Perinatal Health.  The poster (Fig. 1) reported findings of a survey of users of the Healthtalkonline webpages on breastfeeding.  These webpages are based on breastfeeding research conducted at BU can be found here.  BU research has fed into research-based training modules for midwives, lactation consultants and other professionals.  Currently the breastfeeding webpages receive around 37,000 hits each month, representing around 1,500 individuals.
The problem with clicks on webpages is that it suggests interest but it does not constitute evidence of changing knowledge or behaviour.  Dr. Angell teamed up with BU colleagues Prof. Vanora Hundley, Prof. Edwin van Teijlingen, and Senior Lecturer Alison Taylor as well as Prof. Kath Ryan from La Trobe University Australia to study the effect of the webpages.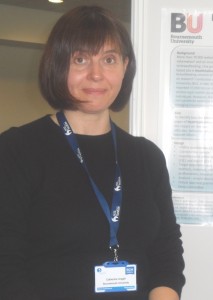 To ascertain the impact of the webpages the team developed and conducted an online questionnaire survey of users of the breastfeeding webpages between Nov.2012- Feb. 2013.  A questionnaire study was administered after ethical approval had been granted. The survey was completed by 159 people, mainly from the UK, but also from other parts of the world such as Australia and New Zealand (12.6%) and the USA/Canada (2.5%).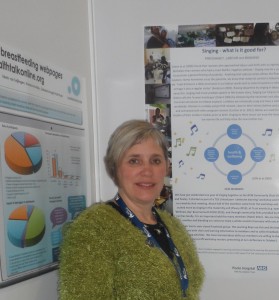 BU was also represented at the RCM conference through BU Visiting Faculty Jillian Ireland.  Jillian is a community midwife working for NHS Poole, who presented a poster on the benefits to mothers and staff of the RCM Bournemouth & Poole Community choir.
Prof. Edwin van Teijlingen
Centre for Midwifery, Maternal & Perinatal Health