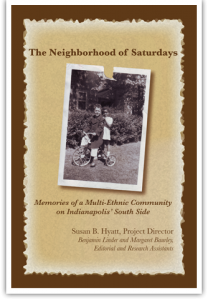 BA Sociology and Anthropology and BA Sociology and Social Policy are two relatively new degree programmes at BU. As someone who teaches across both programmes, and coordinates the BASA programme, I felt that we needed to offer our students more in depth experience of conducting sociological and anthropological research at first hand. One of the things that has often prevented our team from doing this to date has been the difficulties of meeting research ethics requirements within standard unit delivery timescales.  
Last summer I invited Dr Susan B. Hyatt, an Associate Professor at IUPUI in Indianapolis, (and at that time on sabbatical at Durham University) to come to HSC to talk about her collaborative research with her students. Dr Hyatt's innovative approach to providing research skills training to her undergraduate anthropology students entails bringing them together with local community organisations in Indianapolis to collaboratively design feasible research projects of benefit and interest to both parties. An example of one of Dr Hyatt's award winning publications co-authored by students and academics can be found here.
As part of a successful FIF bid for study leave, I will be going to Indianapolis in early 2015 to gain insights on how Dr Hyatt and her students establish relationships with community groups; how student research projects are devised and coordinated to a set timescale; how students are trained to use various research techniques to gather data ethically; how the projects meet relevant research ethics requirements and how their findings are disseminated. Following this, on returning to Bournemouth I plan to work with community development practitioners/organisations in West Howe with whom I have already established contacts during recent research, to identify specific areas for collaborative  research with year two BASSP and BASA students. Longer term, I hope this project will  promote more staff-student collaborative research, publishing the best student work in the eBU journal and disseminating it at events such as the Festival of Learning. In addition, the intention is that in learning how to work collaboratively to develop research projects with community groups and organisations in response to their needs and concerns, students will gain transferable skills of value to employers, and communities will see the value students can bring through their studies. 
Dr Rosie Read
Email: rread@bournemouth.ac.uk