Over the past few weeks, students on BA Sociology and Anthropology (Faculty of Health and Social Sciences at BU)  have been carrying out ethnographic studies in West Howe, Bournemouth. As part of a focus on expanding undergraduate opportunities to conduct first hand research, students have designed their research projects collaboratively with local groups and organisations based in West Howe.
A short drive from Talbot campus, West Howe comprises a large post-war council estate, and faces a number of contemporary challenges in terms of employment, education, health and well being. It is also a green, spacious and welcoming community, with many active local initiatives aiming to improve quality of life for people in the area. Some aspects of its pre-World War Two history as a rural farming community remain present in its contemporary physical environment, combining with the modernist 1950s vision of suburban public space expressed in the architecture and street design. Local people's experiences of the transition of the area from a largely rural hamlet to a modern housing estate, involving rapid population  increase and large scale construction, was captured beautifully in two oral history books published in the 1980s – West Howe Proper and West Howe Too!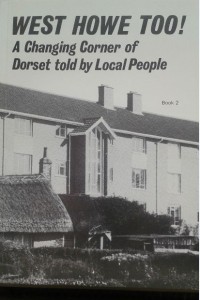 From an early point in their research projects, BU students invested time in building relationships with people in West Howe, working collaboratively with local schools, churches, children's centres and volunteer groups to identify their key research questions, think through issues of research ethics, and use appropriate methods to gather relevant data, including participant observation, interviews, surveys and focus groups. Many student projects were inspired by the activities of local organisations, residents and volunteers, and the possibilities of engaged ethnography to produce findings that are locally useful and make a difference to people's lives.
Next Thursday 3rd December students will be presenting their research findings to the community and inviting their engagement, comment and discussion.  Themes of the research projects include: primary school education, children's play and recreation, access to employment, perceptions of addiction, wellbeing and social support, social mobility and transport. Interested BU colleagues are also welcome to attend – please email Dr Rosie Read know if you plan to come (email: rread@bournemouth.ac.uk).
Event details:
Thursday 3rd December, 10am-1pm. Fernhealth Play, Verney Road,  Bournemouth BH11 8DA.