Jonny, an HSC PhD student based at AECC has recently returned from the University of Warwick where he gave an oral presentation of his PhD findings, at the BritSpine conference. This was an opportunity to present his research on spinal manipulation and neck pain to eminent clinicians and researchers, and field questions from none less than the President of the British Association of Spinal Surgeons and the Chair of the United Kingdom Spine Societies Board – sigh of relief when they appeared to be happy with his answers!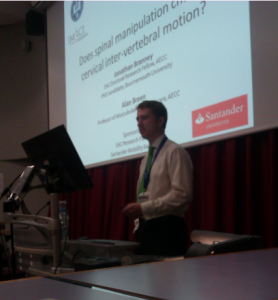 This is the first time Jonny has presented his findings to a spine-research expert audience and this resulted in invaluable feedback that will inform not only future presentations, but his thesis too. It was only through the award of a Santander Mobility Award that Jonny was able to attend this prestigious conference – many thanks to the Graduate School and Santander Universities for making this attendance possible.
Jonny's thesis is entitled, "An observational study of changes in cervical inter-vertebral motion and the relationship with patient-reported outcomes in patients undergoing spinal manipulative therapy for neck pain". He is supervised by Professors Alan Breen and Jenni Bolton, (AECC) and Dr Sarah Hean at BU, and the thesis is due for completion in the summer.
In the meantime, if you're interested in whether spinal manipulation changes inter-vertebral motion, you might like to check out the conference abstract which was published in the European Spine Journal 23(Suppl 1): S128.