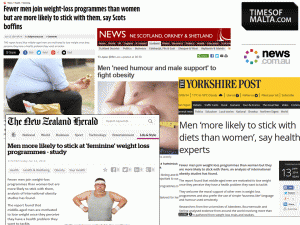 HSC Open Seminar
"Obesity Prevention in Men" with Professor Edwin van Teijlingen
Wednesday 2nd July 2014
13.00 – 13.50pm
Bournemouth House, B126
On July 2nd Prof. Edwin van Teijlingen will present findings from a HTA report published this month.  Researchers from the University of Aberdeen, Bournemouth University and the University of Stirling examined the evidence for managing obesity in men and investigated how to engage men with obesity services. The evidence came from trials, interviews with men, reports of studies from the UK, and economic studies.
The research found that men are more likely than women to benefit if physical activity is part of a weight-loss programme.   Also eating less produces more weight loss than physical activity on its own.  However, the type of reducing diet did not appear to affect long-term weight loss.
Prof. van Teijlingen will highlight some of the key messages for Public Health policy and practice.  For example, that although fewer men than women joined weight-loss programmes, once recruited they were less likely to drop out than women.   The perception of having a health problem, the impact of weight loss on health problems, and the desire to improve personal appearance without looking too thin were motivators for weight loss amongst men.
This work has been funded as part of the ROMEO project (Review Of Men and Obesity) by the National Institute for Health Research, Health Technology Assessment Programme (NIHR HTA Project 09/127/01).
The full report can be downloaded here: http://www.journalslibrary.nihr.ac.uk/__data/assets/pdf_file/0019/118180/FullReport-hta18350.pdf
–xx–
We hope you can make it and we look forward to seeing you there.
Beckie Freeman
Academic Community Administrator| Health & Wellbeing Community
01202 962184 | rfreeman@bournemouth.ac.uk