High quality research from a collaboration of three UK universities has been turned into practical advice.  The ROMEO project (Review Of Men and Obesity) by the University of Aberdeen, the University of Stirling and Bournemouth University found that men are more likely than women to benefit if physical activity is part of a weight-loss programme.  Also although fewer men joined weight-loss programmes, once recruited they were less likely to drop out than women.   The perception of having a health problem, the impact of weight loss on health problems, and the desire to improve personal appearance without looking too thin were motivators for weight loss amongst men.  However, the type of reducing diet did not appear to affect long-term weight loss.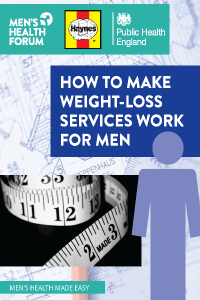 The charity Men's Health Forum linked up with Public Health England and published a 'How to' guide based on the evidence of our ROMEO study.  This 'How to make weight-loss services work for men' guide offers advice for local authorities, commissioners and weight management providers, who are trying to attract men to weight-loss programmes. The guide highlights, for example that:
Programmes that include exercise and behaviour change components as well as dieting are more successful in helping men to lose weight.
Men respond well to programmes that have a higher degree of personalisation, such as setting individual goals, as it increases their sense of control.
Weight-loss programmes based in the workplace or associated with professional sports clubs have been particularly successful.
Using humour and encouraging camaraderie makes programmes more attractive to men as does knowing that there will be other men there.
Furthermore, this 'How to' guide includes, amongst other advice, a list of Ten Top Tips.
This is an excellent example how research conducted between three different universities has been turned into easy to understand advice for man who are overweight.  The past decade or so has seen an increasing interest in making academic research 'useful' to society.  Creating and measuring the impact of research conducted at universities has been introduced as key element on the REF, the Research Excellence Framework.  The REF assesses the quality of research in, and affects the amount of government money each university in the UK receives.
For a traditional academic publishing the HTA report would be a success in itself.  Which, of course, it is to culmination of a large-scale and extensive review, well conducted, published through Open Access, which also attracted considerable media attention from across the globe when it came out.  However, ROMEO did not stop there.  Due to the involvement of the Men's Health Fora right from the start of ROMEO, the Men's Health Forum in England linked up with Public Health England to create and publish 'How to make weight-loss services work for men' guide is published today.
The ROMEO project, led by Prof. Alison Avenell (University of Aberdeen), examined the evidence for managing obesity in men and investigated how to engage men with obesity services. The evidence came from trials, interviews with men, reports of studies from the UK, and economic studies.  ROMEO was funded by the National Institute for Health Research, Health Technology Assessment Programme (NIHR HTA Project 09/127/01).  Our full report is Open Access and can be freely downloaded here.
Prof. Edwin van Teijlingen
School of Health & Social Care
Bournemouth University