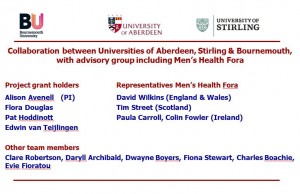 Thank you very much for all of you who attended today's presentation of the joint project between the University of Aberdeen, Bournemouth University and the University of Stirling.  For those who missed the session or who asked for a copy of the slides after the session, please find these included in the BU Research Blog.
The project was funded by National Institute for Health Research Health Technology Assessment (NIHR HTA) programme (09/127/01).  Therefore, I must point out that "views and opinions expressed therein (and here) are those of the authors and do not necessarily reflect those of the HTA programme, NIHR, NHS or the Department of Health."
As with all HTA reports the final report and a ten-page summary are both freely available online, see:
www.journalslibrary.nihr.ac.uk/__data/assets/pdf_file/0019/118180/FullReport-hta18350.pdf
Prof. Edwin van Teijlingen
Centre for Midwifery, Maternal and Perinatal Health.
R