The Science Outreach team at BU have been very busy for the past few months running STEM (Science, Technology, Engineering & Maths) events for school pupils across the region. Our programme cumulated at Camp Bestival this weekend where we ran activities with approximately 3,500 participants!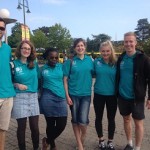 Over the summer we've run more than 150 events including activities at the Winchester Science Fair and promotional activities for the Festival of Learning in Bournemouth town square and Poole High Street.
Activities have included a new Fusion funded project called the 'BU Lego Challenges'.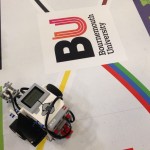 Pupils learn how to programme Lego robots and design various robot attachments in order to complete challenges based around STEM careers.
Placement students from the Faculty of Science & Technology have designed and delivered workshops on heart dissection and the Navitus Bay Wind Park. We've also been running at STEM club at Avonbourne School and Harewood College around the Fusion funded research project 'BioBeach'.
In July we ran the third annual 'ScratchJam', kindly hosted this year by The Media School and the NCCA. Nearly 100 pupils aged 11 – 13 attended this computer programming competition. Attending teachers said it was the best 'ScratchJam' yet!
We attended the three-day Camp Bestival at Lulworth Castle with the public engagement team from R&KEO. The team run three activities: the ever popular make your own soap and two activities based around fossils of the Jurassic Coast.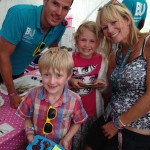 We've been collaborating with the Jurassic Coast World Heritage Site education team this year and have two activities we can run at public engagement events: digging for fossils in our specially made fossil boxes and then painting your fossil cast from the Jurassic Coast.
Thankfully the sun came out for nearly the entire festival period so we were incredibly busy for the entire period.
Our next activity is next week when we'll be attending Einstein's Garden at The Green Man Festival in Wales. We're showcasing the 'BioBeach' research project and hoping to engage festival goers with facts and discussions around marine waste.
Naomi Capell
STEM Outreach Officer