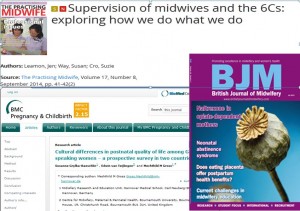 The Centre for Midwifery, Maternal & Perinatal Health started well this September with four publications in academic and practitioners' journal.  Starting with final-year student midwife Joanna Lake who just had an article published in The Practising Midwife.1
Secondly, BU midwifery staff Jen Leamon and Sue Way together with HSC Visiting Fellow Suzie Cro also have had an article published this month in the same journal.2
Susanne Grylka-Baeschlin, a midwife from Switzerland who spent time at BU as an international visitor (see http://blogs.bournemouth.ac.uk/research/2014/07/02/latest-hsc-midwifery-paper-in-open-access/) had her paper published in BMC Pregnancy and Childbirth this month.3
And last, but not least, Wendy Marsh, based in HSC's Portsmouth office had a paper in the September issue of the British Journal of Midwifery.4
Congratulations,
Prof. Edwin van Teijlingen
References:
Lake J., 2014. Witnessing the art of woman-centred care by and exceptional mentor. The Practicing Midwife. 17(8), 24-26.
Leamon J, Way S. & Cro S., 2014. Supervision of midwives and the 6Cs: exploring how we do what we do. The Practicing Midwife. 17(8), 41-42.
Grylka-Baeschlin  S., van Teijlingen,  E. & Mechthild, G.M., 2014. Cultural differences in postnatal quality of life among German-speaking women: a prospective survey in two countries. BMC Pregnancy and Childbirth 14:277    www.biomedcentral.com/1471-2393/14/277
Marsh, W. 2014. Removing babies from mother's at birth: Midwives experiences. British Journal of Midwifery. 22(9):620 – 624.